Things you must know before Travel to Mongolia Most essential tips
As an explorer of the world, you're no doubt drawn to untamed and undeveloped destinations – and traveling to Mongolia is certainly one of those.
With its vast steppes, rugged mountains and endless Gobi Desert, the country has a wild beauty that's luring more and more visitors every year.
But before you travel to Mongolian wilderness, there are some things you need to know. Here are 20 essential tips to help make your trip smoother and more enjoyable.
1. Is it safe to travel to Mongolia?
Mongolia is a relatively safe country for foreigners. However, both street crime and violent crime are on the rise, especially in larger towns and cities. Crime typically peaks during the Naadam summer festival in July and during the Tsagaan Sar (Lunar New Year) festival in January or February.
is Mongolia safe to travel alone? I don't think so. Group traveling is safety and security.
If you are traveling to Mongolia, consider traveling in a group is often the safest option, and more fun, too! If you're traveling solo, it's best to stick to well-traveled routes. I highly recommend you find a good travel Agency or call your Mongolian best friend.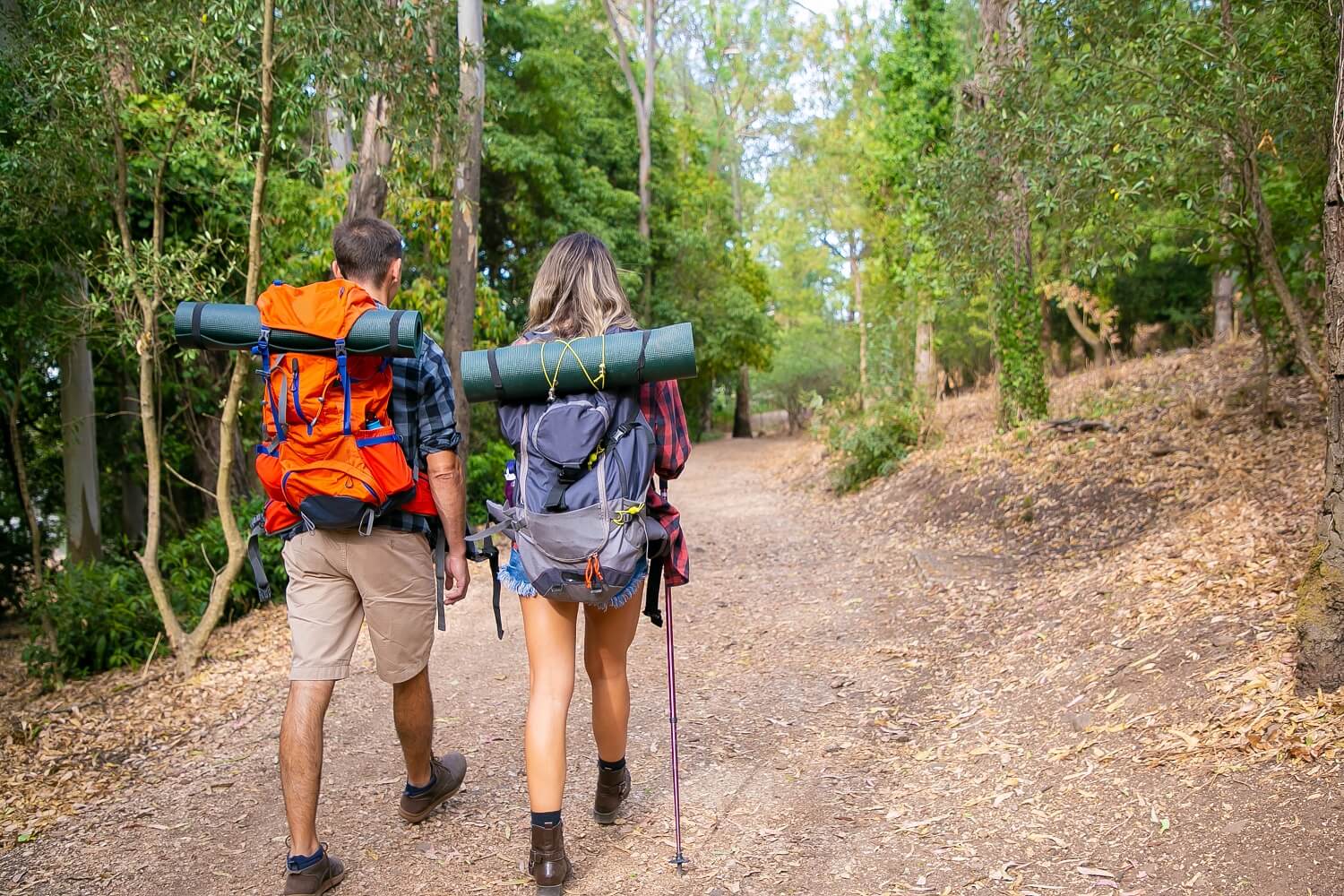 Because a good travel agency can handle all of the logistics for you – from accommodation and transportation to tour guides and excursions. By the way, they have good drivers in their company.
Local drivers may be beneficial to you. On a long drive, you can use Google Maps or anything else. However, the local driver is the only knows the best.
2. Prepare Long Journey
You might be spending lot of time in the car. Most of the time you travel on unpaved roads, so it will be a bumpy ride. The average speed is 30-40 km/h.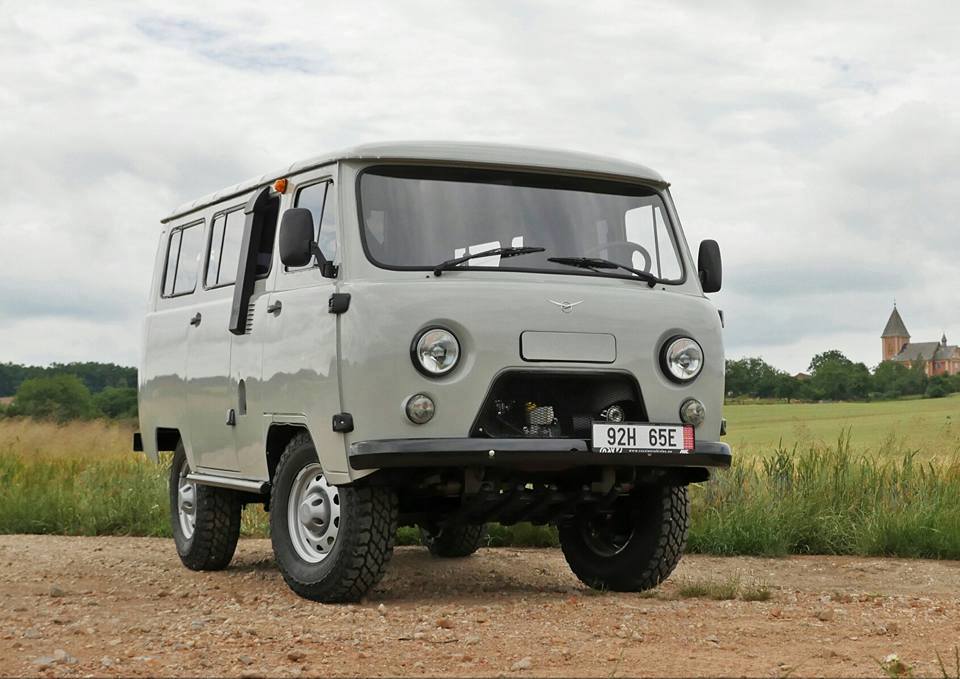 If you are prone to car sickness, bring along some medication or patches. And make sure you have enough books, music and snacks to keep you entertained during long hours in the car. This will help you a long way of travel to Mongolia
3. What do Mongolian nomads eat?
Be prepared to eat a lot of meats. The nomadic people live with their animals, so they will slaughter them for food. We also eat a lot of dairy products, such as yogurt and cheese.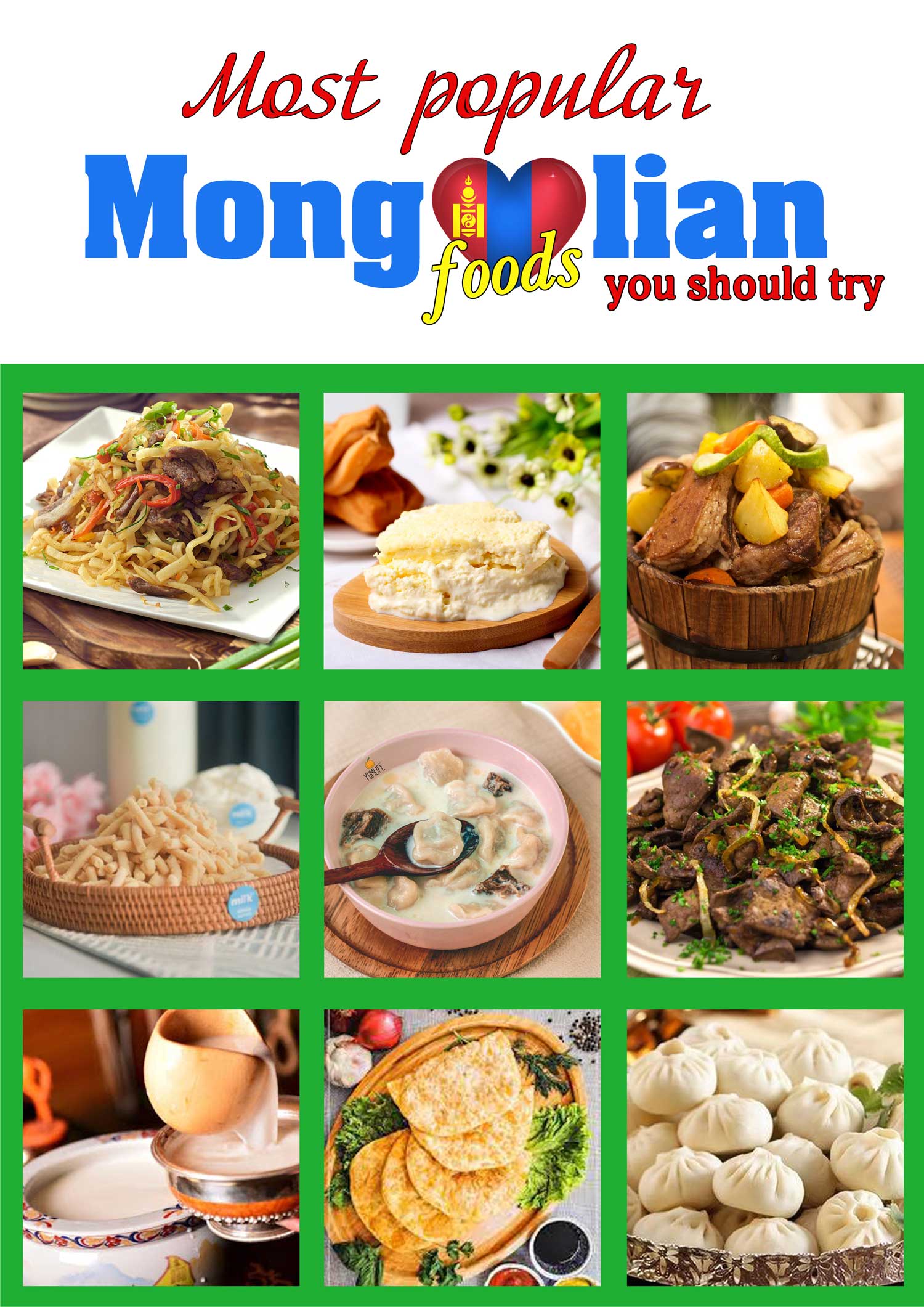 If you're vegetarian or vegan, it might be tough to find food options. Here is I highly recommended you article 'most popular foods in Mongolia'
4. Mongolian traditional yurt is waiting you
Every time you camp, Mongolian traditional yurt will be waiting for you. Of course, there are pros and cons when you have a camp in Ger.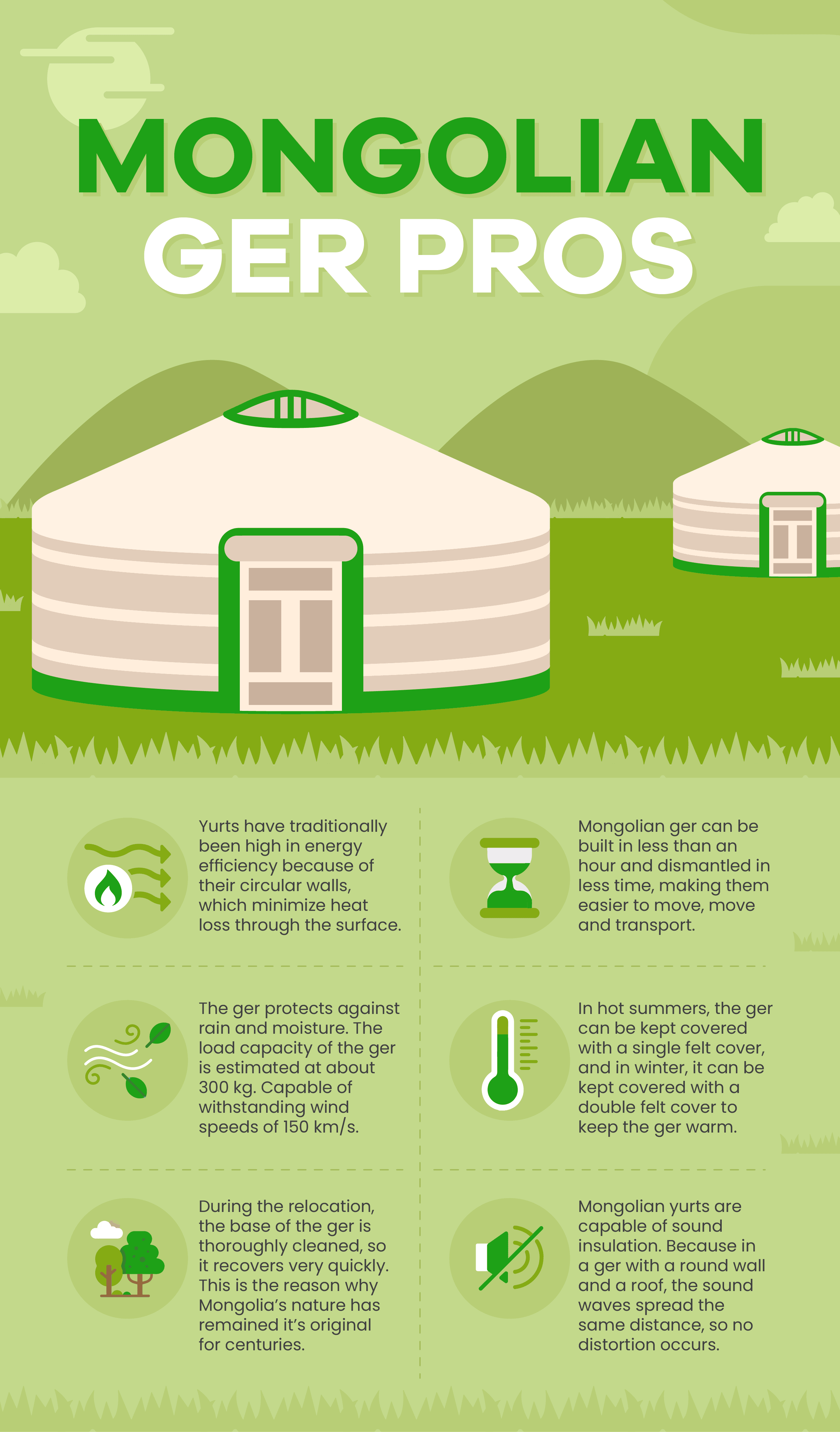 Cons of the ger or yurt are:
It is might be cold at night. So you could tell them to keep your yurt warm the whole night or prepare your blanket. Traditional Mongolian Yurt has an actually stove in the center of 'Yurt'. So you can fire when you get cold at midnight.
There is not might be electricity in the Yurt. So if you need to charge your camera or phone, try to do it in the daylight.
5. You might not have access to toilet
When you travel to Mongolia usually in the countryside, there are no toilets around. The locals just go behind a bush. If you're not comfortable with that, make sure you think about this situation.
And you might be squat when you get a toilet. In the countryside, there are no Western toilets. You will have to squat over a hole in the ground. In that position, your legs will start a shake after a while.
I would recommend you know something 'how to use the squat toilet' before you go to the toilet.
6. No Laundry facility in the countryside
So you need moisture-wicking clothes is the best choice. Because it is not smelling weird. And consider quickly drying clothes is the most important for your travel especially when you get a long trip.
You have to wash your clothes by yourself or someone can take care of them. But the main point is clothes must be dry quickly as possible. Because you don't have too much time.
I have privately suggested that you use hangers and pull ropes to dry clothes. This will really helps you when traveling around Mongolia.
7. The shower case
If you travel in the countryside, you will shower with a bucket of water. And there is no hot water usually. In the wintertime, it is extremely cold to shower with a bucket of water.
I would recommend you to take a quick shower in the morning or evening when the sun is out. Because the weather is not too cold to shower. Wet wipes or military shower you should consider.
If you travel in the cities, such as Ulaanbaatar, you will find a hotel and they have a real shower with hot water.
8. What is the best time to travel to Mongolia?
The best time to travel to Mongolia is from late spring to early autumn – from May/June to September/October.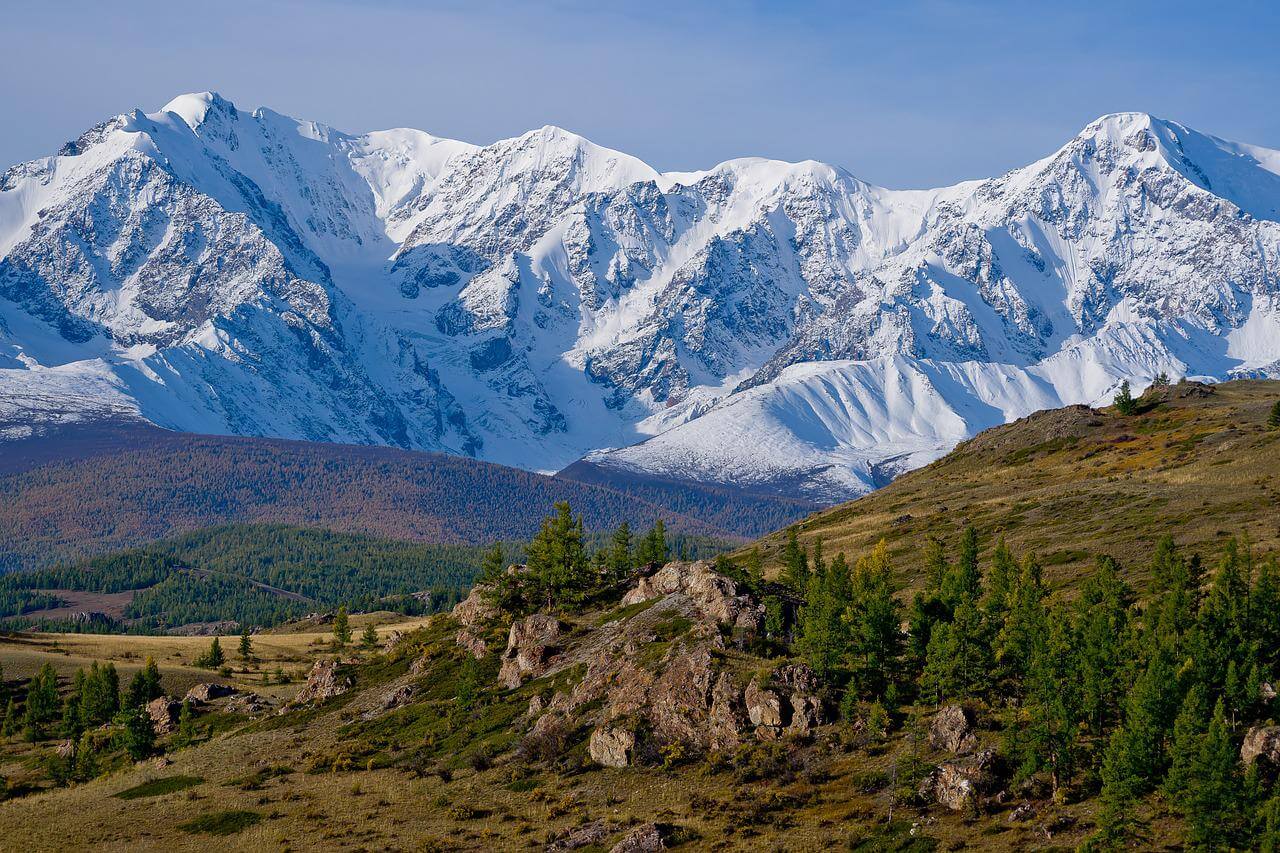 During this time, the weather is milder and the days are longer, so you'll have more daylight hours to explore.
However, if you're interested in winter activities such as dog sledding or snowmobiling, then travel between December and February. Just be prepared for cold weather!
9. What climate is Mongolia?
Mongolia has located at an altitude of around 1,500 meters above sea level, so it can get quite windy, and dry.
Mongolian weather is very changeful. It can be windy and hot one day, and the next day it can be cold and rainy. After July 13th it will start Autumn in Mongolia. So the day can be very hot but it can be very cold at night.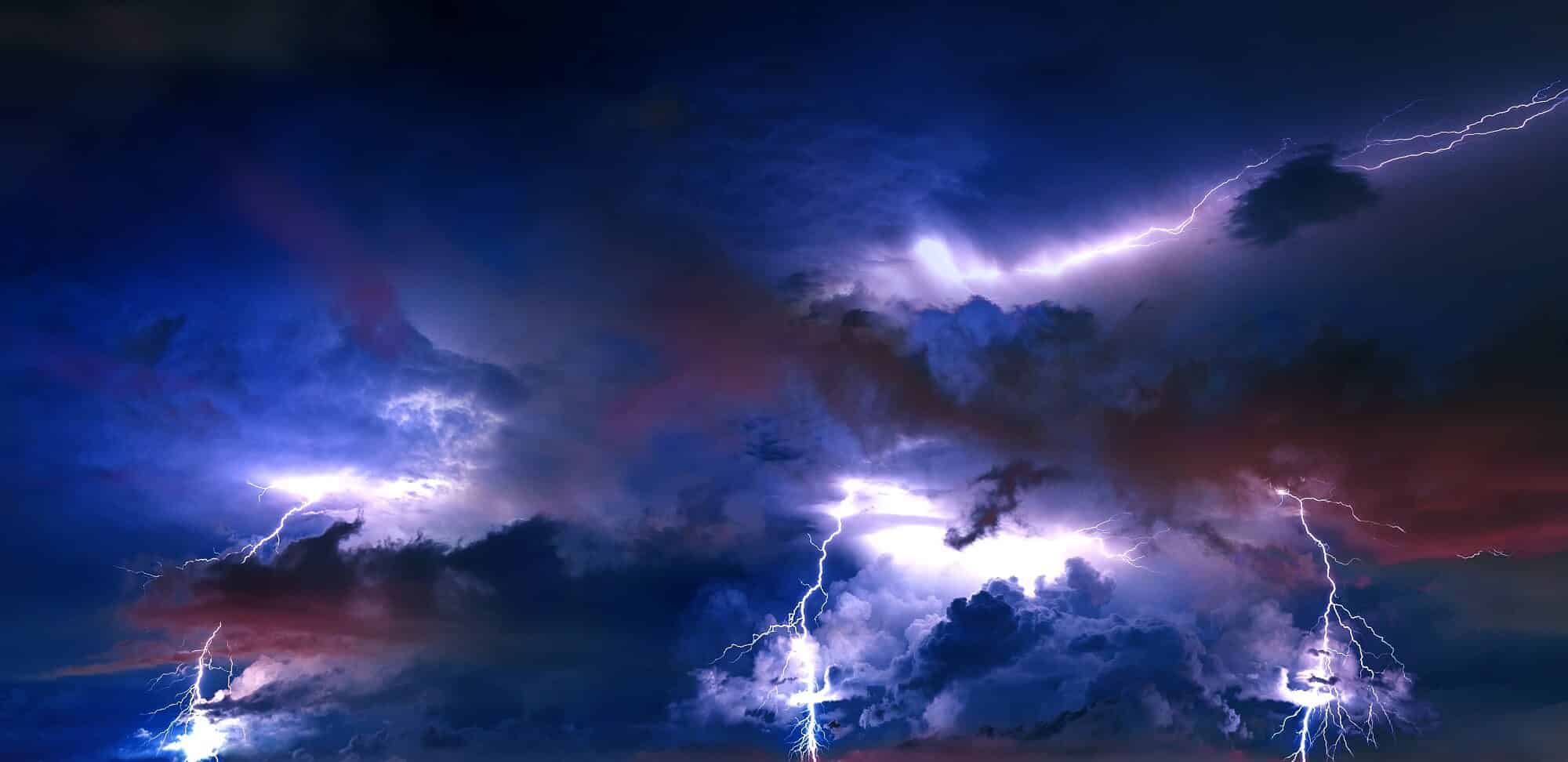 Mongolian day temperature is 25-30 Celsius degrees but the night temperature is 10-15 Celsius degrees. Sometimes when you wake up in the morning there will be iced grasses over the whole land. The weather is more extreme than you think.
My advice is long sleeve T-shirt, quickly drying clothes, moisture-wicking wool, and rain gears are perfect.
10. Don't expect too much
Don't expect too much in terms of luxury while travel to Mongolia. Accommodation is often very basic, especially outside of the capital city of Ulaanbaatar. Only you can see is vast countryside with untouched nature. Kind and hospitality Mongolian people you can meet.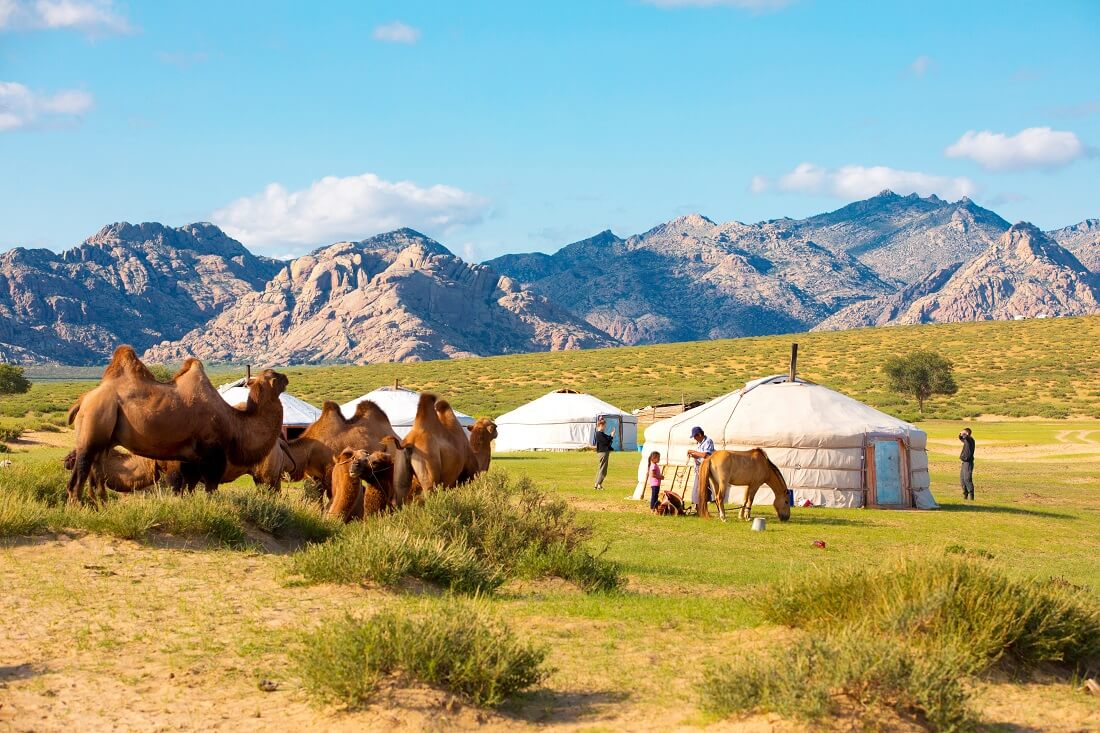 When you travel to Mongolia long way. You probably meet yurt camp all the way. Don't expect too much service, a super clean house, and nice smells on your arrival.
Inside the Ger, there will be a bed, pillows, blanket, etc.
But hey maybe you can arrive at a Traditional Mongolian family. Things are a little bit different. Because most Mongolian people are very kind and hospitable to their guests. Here are some special advices to give you about Mongolian culture.
11. Prepare medicine
Travel to Mongolia, don't forget bring any medications you might need with you. Maybe some of them is not available in Mongolia. Especially if you are sick, prepare your medications very well.
Because you will not be able to buy the stuff along the way.
12. Do they speak English in Mongolia?
The answer is NO. Not many people speak English in Mongolia, especially in the countryside. So it's a good idea to learn some basic Mongolian phrases before you travel.
However, in the capital city of Ulaanbaatar, more people speak English, so you'll be able to get by without speaking Mongolian. But it's still useful to know some basic phrases.
13. Bring plenty of cash with you
There are very few ATMs in rural areas and they often run out of money quickly. Credit cards are not accepted everywhere.
So it's a good idea to bring plenty of cash with you, in US dollars or Mongolian tugriks. Buying snacks, souvenirs, water, or an extra payment needs cash. Especially in the countryside.
14. What is Mongolian currency?
Travel to Mongolia is interesting. In here the Mongolian currency is the tugrik (MNT). 1 USD is about 3,200 MNT in 2022.
15. Is Mongolia expensive to Travel
Of course, It all depends on your travel style and budget. For the most part, traveling in Mongolia is not very expensive. You can find plenty of backpacker hostels for around $30 USD per night and meals can be found for a few dollars.
If you want to stay in nicer hotels or eat at nicer restaurants, then you will of course spend more money. However, there are still ways to keep costs down.
Mongolia is a relatively affordable destination, especially when compared to other countries in Asia. So if you're on a tight budget, don't let the cost deter you from visiting this amazing country.
16. Be respectful of Mongolian culture
Take off your hats when eating food (traditional home), for example, and don't touch anyone on the head. learn more about Mongolian culture here.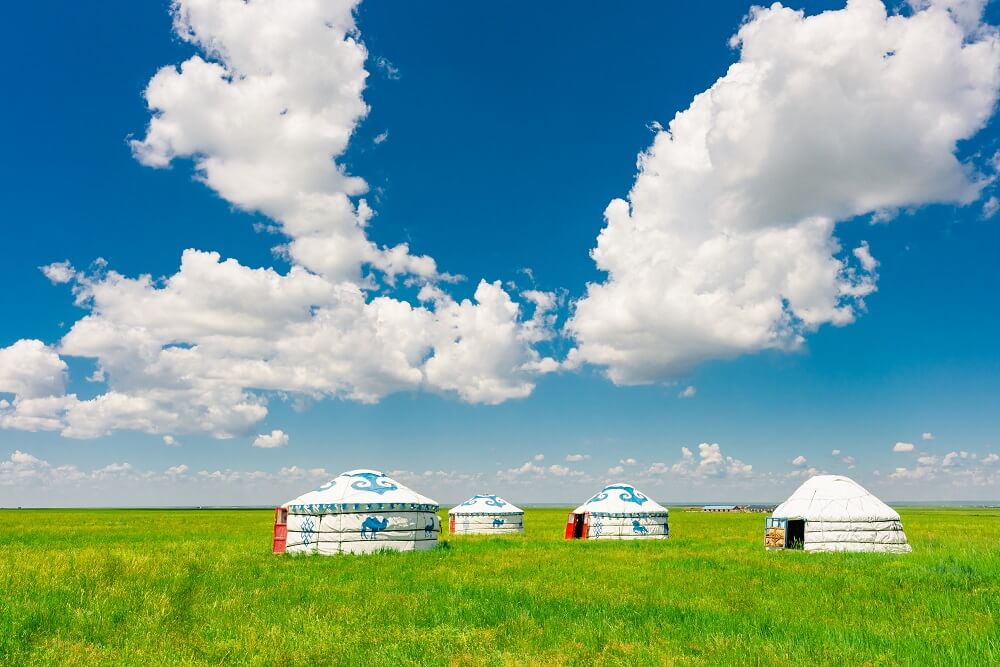 Nomadic people are very friendly and hospitable, so don't be afraid to approach them and ask questions. Just be respectful of their culture and traditions.
17. The Gobi Desert can be challenging
The Gobi Desert can be particularly challenging to travel in, due to the lack of water and infrastructure. If you're planning on visiting, make sure you're well-prepared.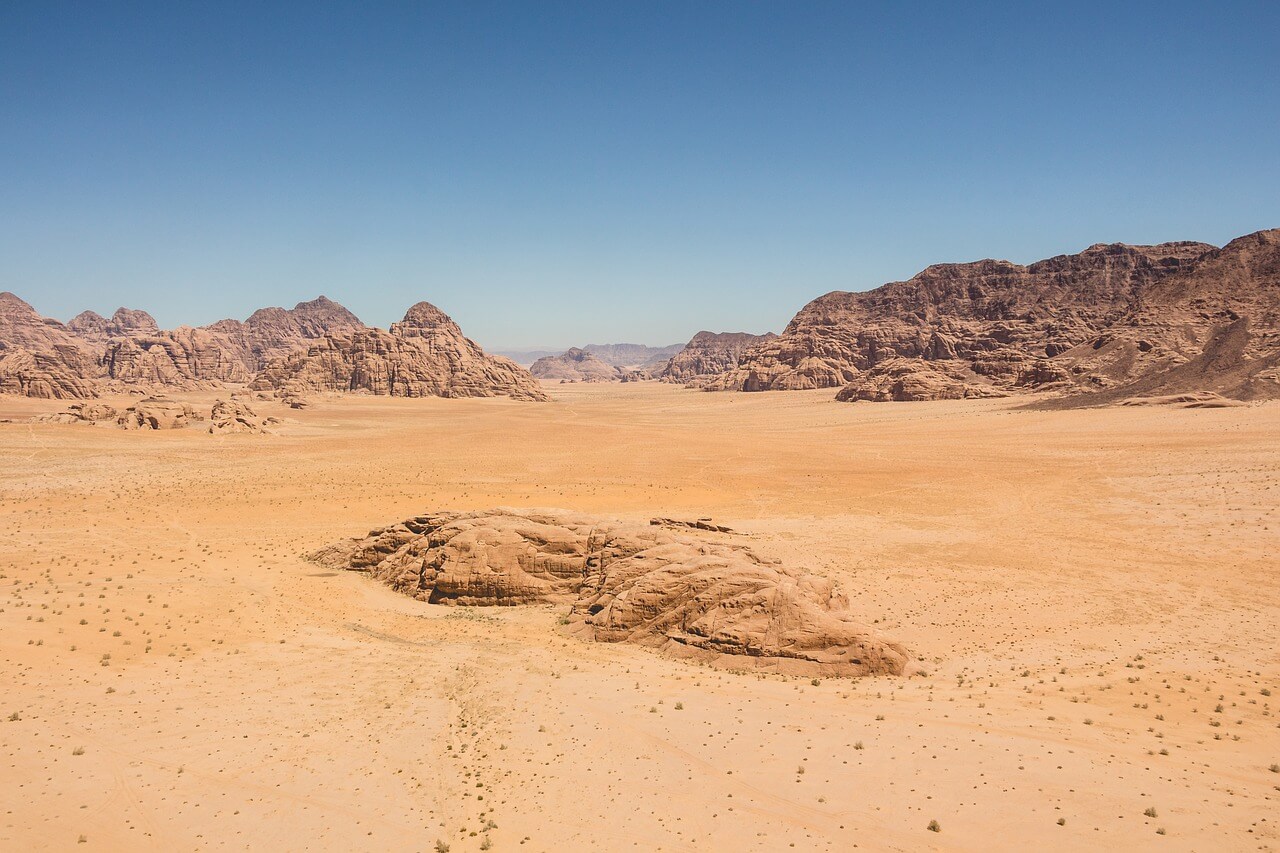 My advice is prepare your Phone case or camera case. Because the sand is very fine and it can get into everything. Even if it was Samsung or Apple phone.
18. Packing list to travel to Mongolia
List of Clothes:
Clothes that dry quickly
Towel /medium size/ that dry quickly
Hangers and pull ropes
Wet wipes or military shower
Long sleeve T-shirt
Moisture-wicking wool
Rain gears
Buy Deel from Mongolia
Mongolian boots /ride horse/
To do list:
Basic Mongolian phrases book
Interesting books
music, podcast
playing cards can be fun with friends
Accessories:
wallet /can be keep lot of cash/
sunglass
Change case for phone /camera etc/
suncream
medications
headlamp /use it at night/
extra batteries /If you have a camera/
power bank
car charger while you get in drive
car accessories /car big pillow, blanket/
mattress
Is Mongolia worth visiting?
Absolutely! Mongolia is a unique and fascinating country, with much to offer visitors. From the stunning landscapes of the Gobi Desert to the friendly people and rich culture, there's something for everyone in Mongolia.
How should I dress in Mongolia?
Mongolian weather can be extreme, so it's important to dress appropriately. In summer, temperatures can reach 40 degrees Celsius (104 degrees Fahrenheit), while in winter it can drop to -40 degrees Celsius (-40 degrees Fahrenheit).
I highly recommend the deel. You can use it anywhere and everywhere in Mongolia. Especially Traveling around Mongolia. Deel is very comfortable using it. If you want to sleep in a cold place Deel can be blanketed easily. Or if you want to go toilet. The Deel can cover your naked body. In a hot day
Gobi Desert Tour In Beautiful Mongolia Explore Gobi Desert Attractions Gobi Desert Tour 7 days 8 night Tour Schedule: May to October Experience the best of Mongolian culture on this…
When you think of vast and breathtaking landscapes, the Great Mongolian Desert might not be the first place that comes to mind. Spanning 1,295,000 square kilometers, the Great Mongolian Desert…
Let us know in the omments below! or join our newsletter today
Share to Public