BUY TRADITIONAL MONGOLIAN GER & YURT
Buy Mongolian Ger without extra cost
AUTHENTIC MONGOLIAN YURT
Welcome to a home that has received worldwide attention. Mongolia's yurts attract many people from all over the world because they are ecologically friendly and attractive places to live.
We provide our products worldwide without intermediaries and I along with my family will ensure that the products we made will be on your doorstep without any problem.
Why You Must Choose Us: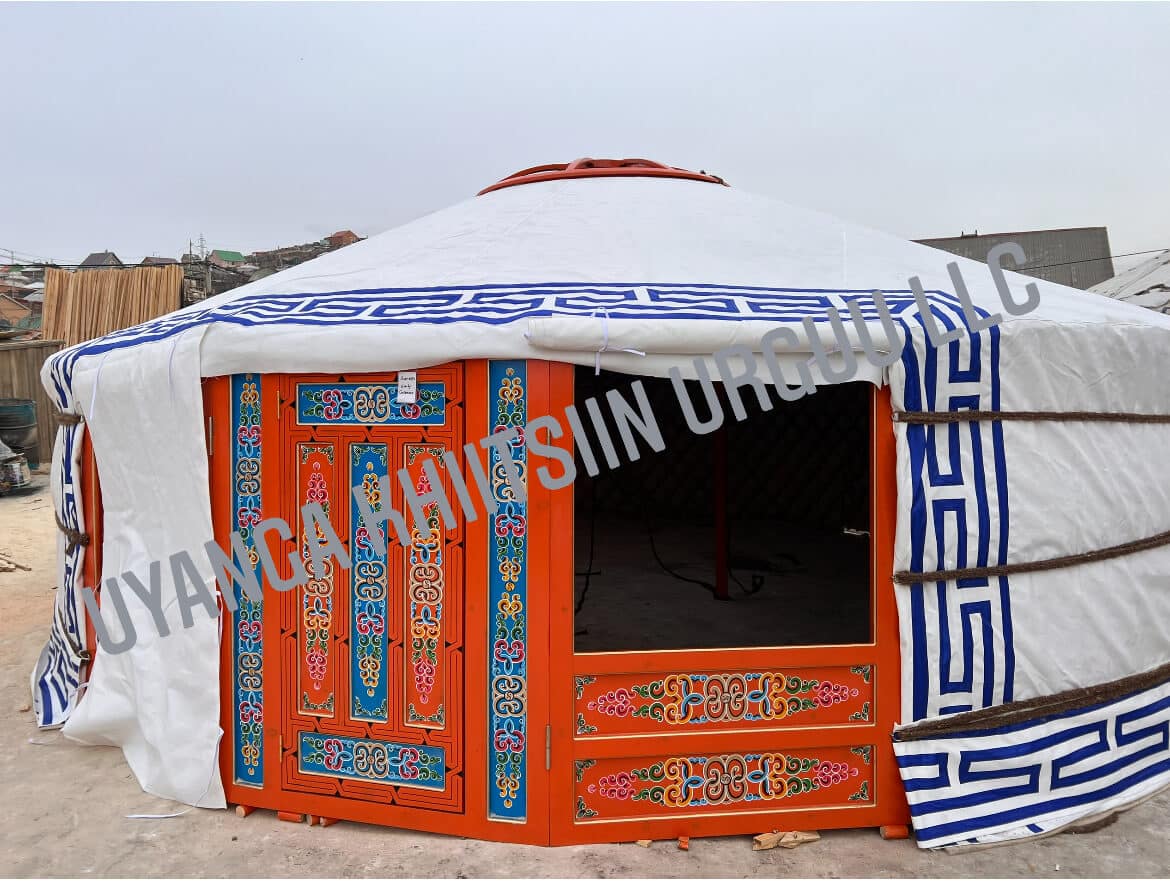 New or Used Ger to Sale
For a new Ger, we will provide 5 year's warranty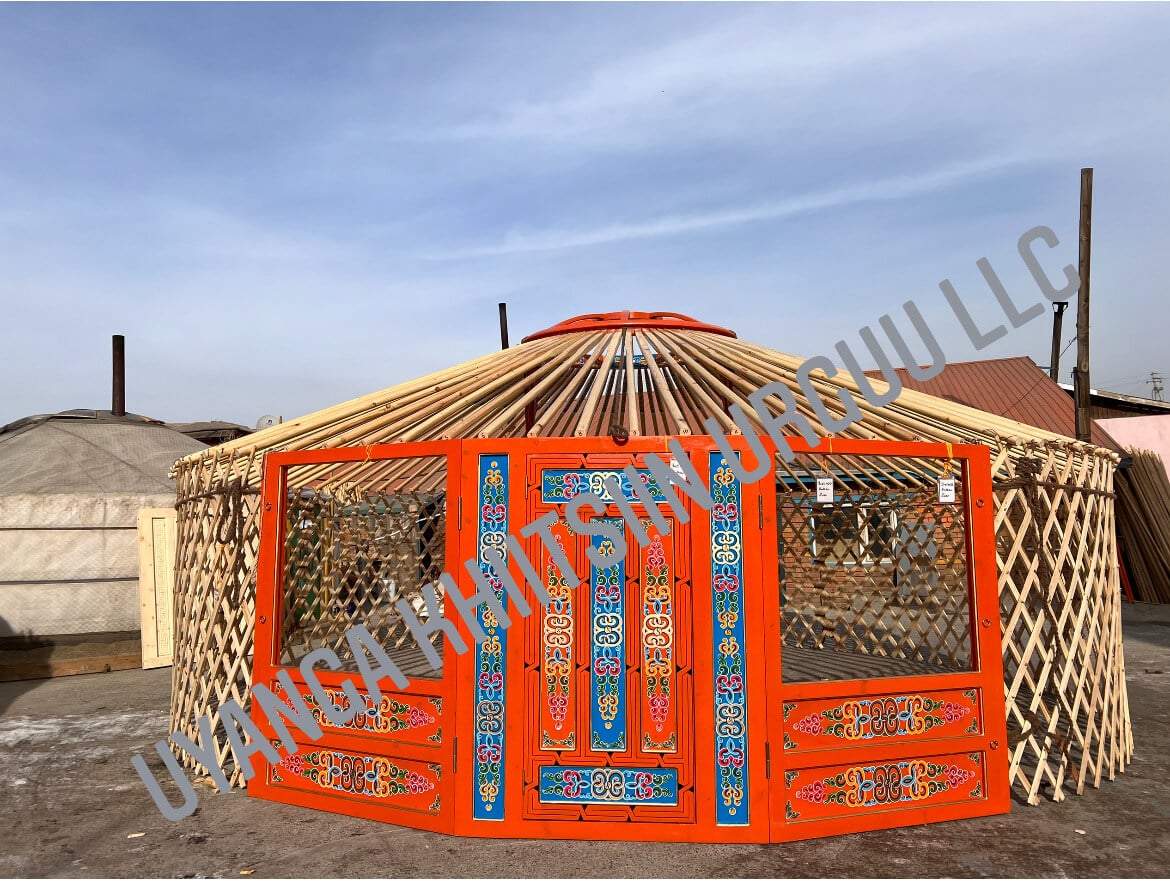 High Quality Materials
The Woods, Felts, other accessories is made by the highest quality materials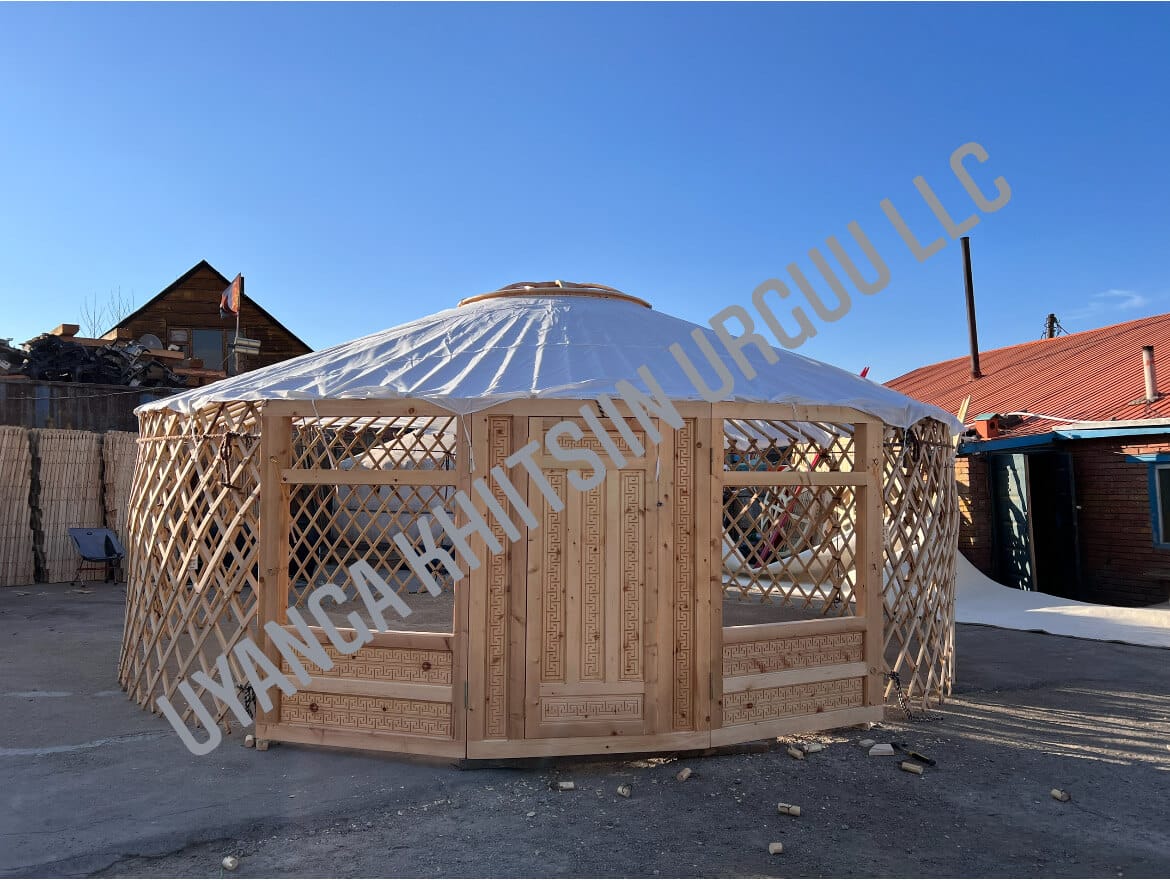 Customizable Design
You can fully customize your own Ger structure.
Materials We Provide:
We use the best quality natural materials to construct our Mongolian yurts, like firm wood and thick felt insulation, so you can rest assured knowing they are both comfortable and safe.
They're all hand crafted and hand painted by Mongolian artists and carpenters. The real Mongolian Authentic Yurt comes with:
Fundamental Parts
Felt insulation: is the most important part of a ger. In summer, one layer of felt is used, but in winter, two layers are necessary. When felt is made, it's a very unique product. After the rain, there may be some scents. But our felt is unique in that you won't have to worry about it.
Decorated water-resistant canvas: – The waterproofing feature of canvas is excellent because it protects the material from rain and other elements. We only suggest our best materials.
All necessary straps, rope: – The ropes on a traditional Mongolian ger are made from horse tail hairs. However, we use modern, high-quality materials that can withstand strong winds, rain, and harsh environments.
Urkh, the outer cover: – It protects Ger from both sun and rain. It is commonly made out of felt and is optional.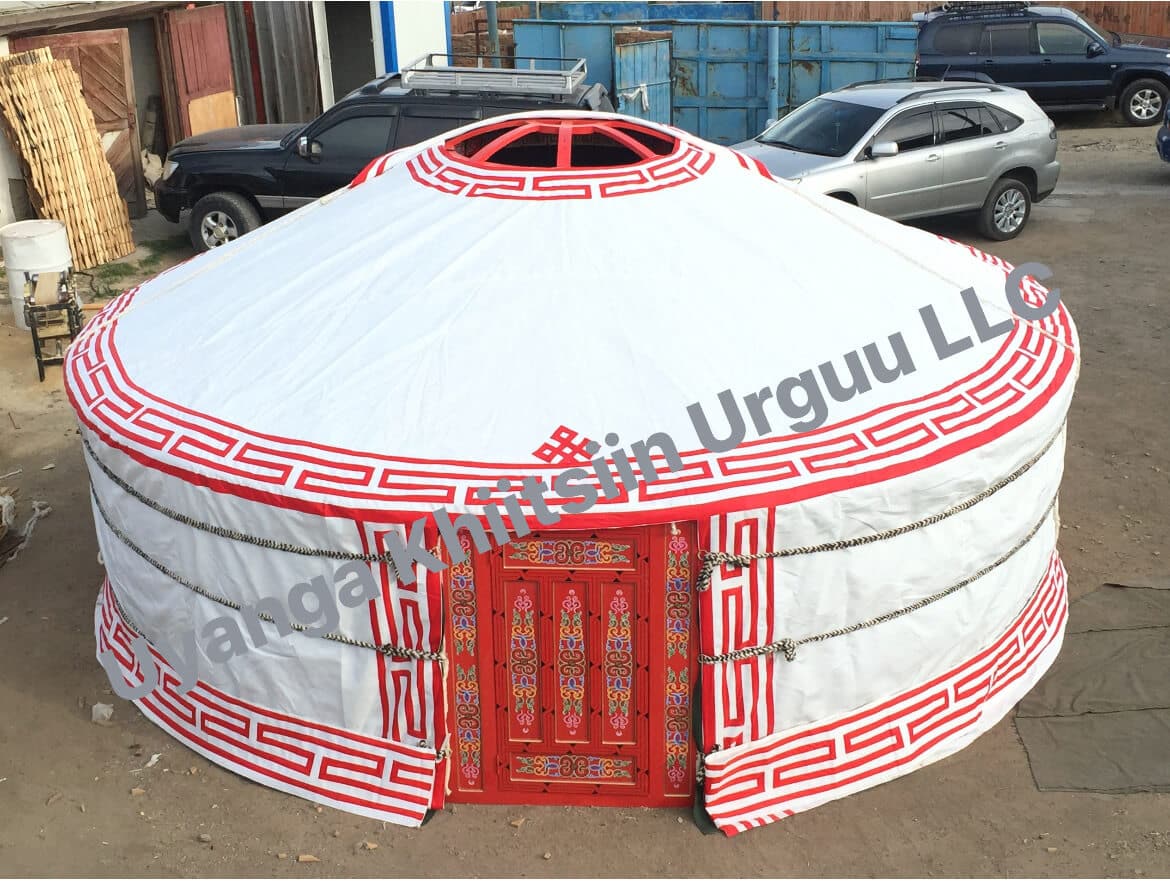 Wood parts:
Door
Mongolian acrylic toono (wheel crown roof)
Lattice walls
Floor /Optional/
Rafters/ Uni (part of roof)
Pillars
For centuries, Mongolian Gers have been used as homes in some of the world's most remote and hostile environments.
So, we took care in the design of our yurts to make sure they would be comfortable and attractive, as well as durable and eco-friendly.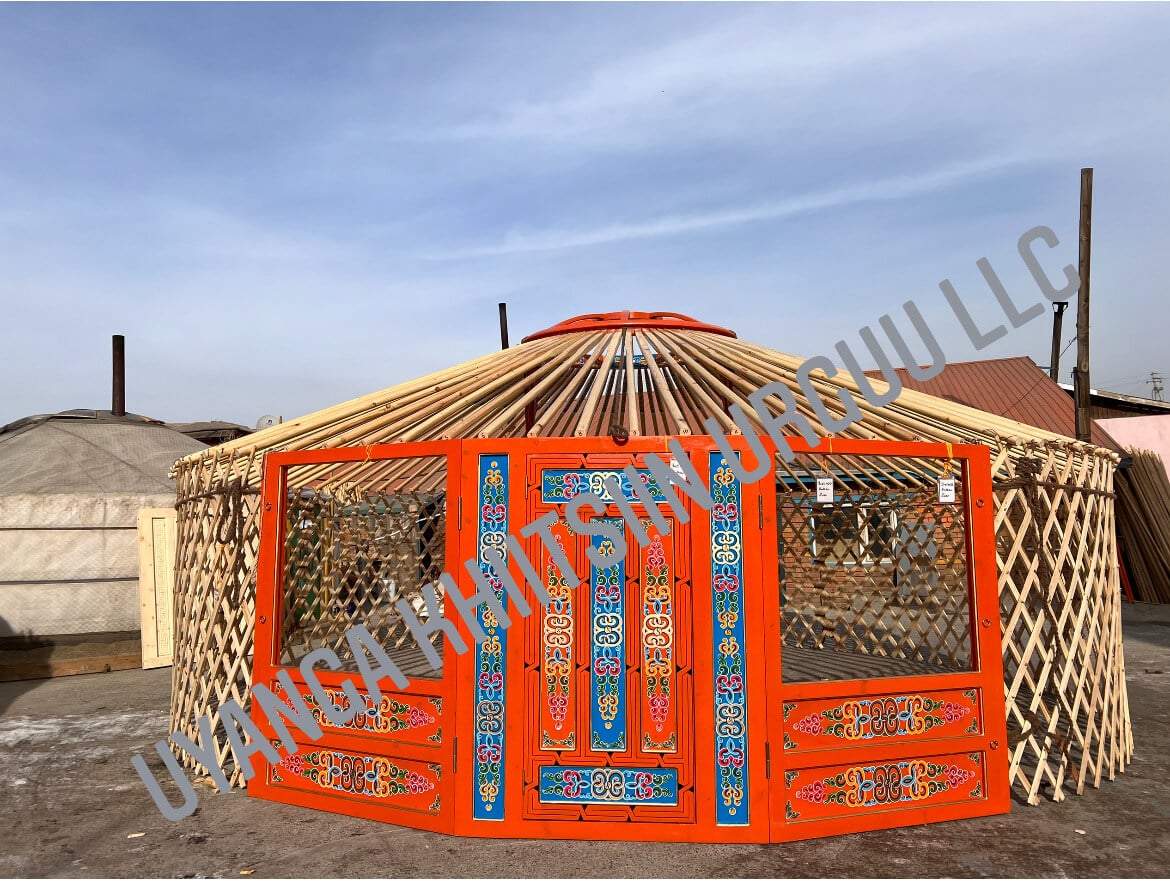 Buy Authentic Ger
Buy Mongolian Ger without extra cost
Customer Reviews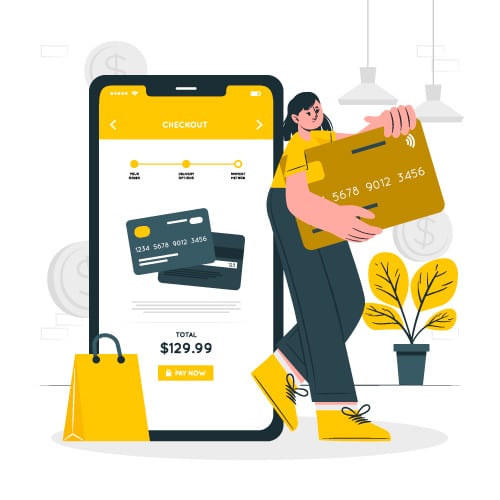 Secure Payment
We advise you to pay by Amazon using a credit card.

Yurt & Ger is suitable for
Yurts serve many functions, like guesthouses, yurt camping, glamping , yoga rooms, recording studios and primary residences.
Offices: The round shape of the yurt creates a unique and inspiring work environment that is perfect for creative businesses.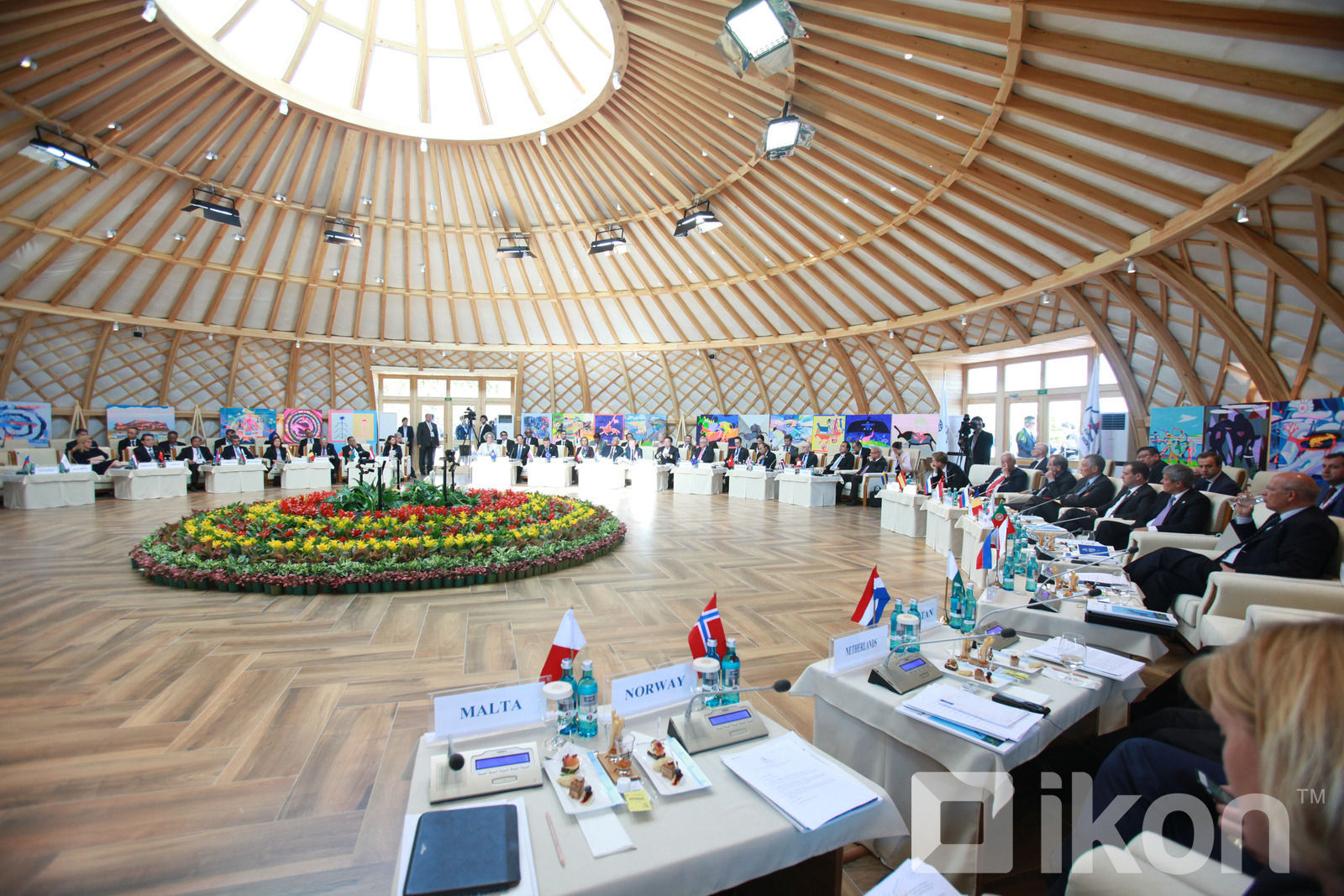 Yoga studio: The calming and serene atmosphere of the yurt makes it the perfect place to practice yoga or meditation.
Mongolian yurt camping or Glamping: Yurts is single-room structures that may be used to camp in. They're a great option for individuals who enjoy camping but don't want to rough it in a tent.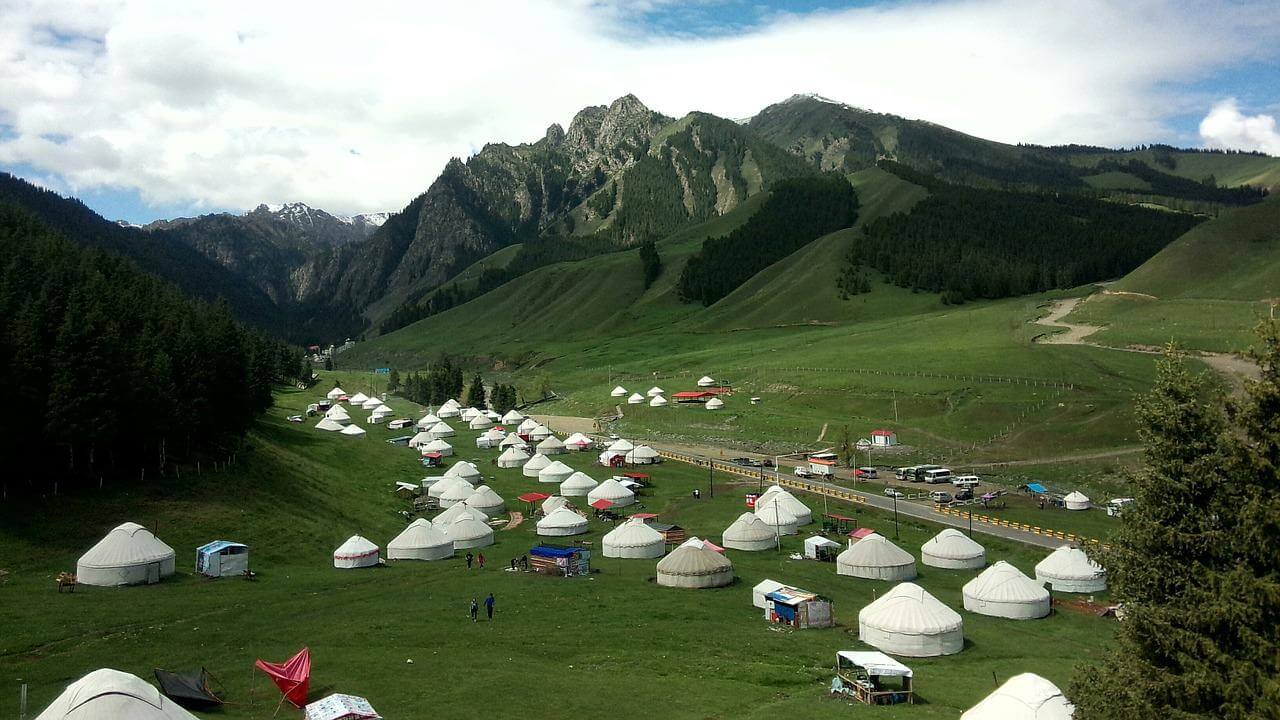 Primary residence: The spacious and comfortable interior of the yurt makes it a great option for those looking for an alternative to a traditional house.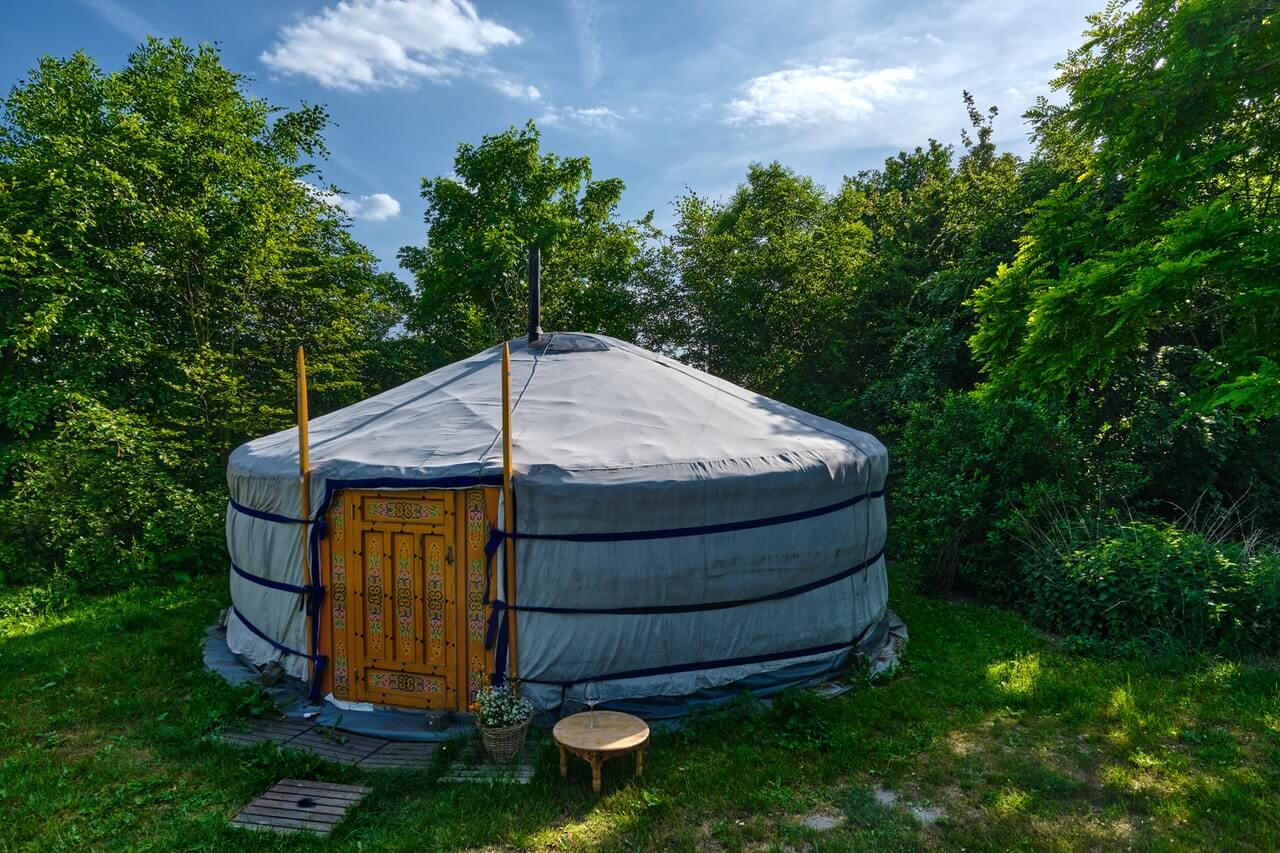 Buy Authentic Ger
Buy Mongolian Yurt without extra cost
Explore Our Yurt Size and Price

| Wall /4-8/ | Standard Size /diameter/ | Price /$/ |
| --- | --- | --- |
| 4 wall | 16' diameter Yurt | 6'780$ |
| 5 wall | 20' diameter Yurt | 7'250$ |
| 6 wall | 22' diameter Yurt | 9'540$ |
| 7 wall | 26' diameter Yurt | 12'550$ |
| 8 wall | 30' diameter Yurt | 16'380$ |
Shop Now: Authentic Mongolian Yurts
Here at our webstore, you will find a vast selection of Yurts to purchase. We pride ourselves on being the best choice for authentic luxury Yurts and customized Yurts. All of our items are designed with excellent craftsmanship by skilled artisans and engineers. If you're on a budget, opting for a used Mongolian ger may be more feasible.
Company: Uyanga Hiitsiin urguu LLC
Location: Bayanzurkh district, 13-57 Ulaanbaatar, Mongolia
Structured images
Factory Images
Yurt & Ger Felt Images
Door and Wooden Materials
Buy Authentic Ger
Buy Mongolian Yurts without extra cost
Mongolian ger is one of the oldest portable dwellings in the world. It has a long and rich history, and culture dating back to the time of Genghis Khan.
Today, yurts are still used by many Nomads in Mongolia, as well as other parts of Central Asia and the Middle East. If you are looking for authentic Mongolian yurts, you have come to the right place.
FAQs – Costumers often ask about yurts
How about the shipping cost?
The shipping cost of your order will be calculated based on the weight of your items, your shipping destination, and the shipping method you choose. Our clients come from many countries.
Our logistics freight team will arrange delivery to your specified location. Please note that we do not profit from shipping and handling fees, and our goal is to always offer you the lowest fee possible.
You can pick up your yurt from shipping terminals near you to save money on delivery, but in some rare cases, the road to your destination may be difficult. In this unusual scenario, it's usually best to receive the yurt from the nearest shipping terminal.
How much does a yurt cost?
The price of a yurt can vary quite a bit, depending on the size and style of the yurt. We sell Yurt from 6780$. But if you book several yurts, we can give you a discount. To get your custom price, please contact us directly.
How do I set up a yurt?
Yurts require some assembly, but the process is relatively straightforward. Once the yurt is delivered to your property, you will need to level the ground and stake the yurt down. We will give you detailed instructions on how to set up your Yurt the right way.
How do I pay?
We can provide Amazon Secure Payments if you're from the United States. You can use any sort of bank card, wire transfer if you live in Europe or Canada. However, if you are from any other country, you can purchase our Yurt with PayPal.
Do You Offer discount for several Gers?
Yes, we offer discounts if you purchase multiple Ger or Yurt from us. Of course, the number of discounts given depends on how many Ger or Yurt you want to buy.
Hello, my name is Bayanbat Altantur and I was born in Ulaanbaatar Mongolia. I grew up in countryside of Mongolia and living in a Ger /yurt/.
I have many years of experience in living in a yurt and I can give you some tips about it.
If you have any questions about our yurts or would like to learn more about this ancient dwelling, we encourage you to contact us today.
We would be happy to answer any of your questions and help you find the perfect yurt for your needs.
Related content:
Ger Mongolia is a country renowned for its rich culture, historical significance, and breathtaking landscapes. For the traveler seeking a unique, authentic experience, Mongolia provides a journey like no other,…