Every year from July 11th to 13th, Mongolians celebrate the "Mongolian Naadam Festival" all over the country. This is an honored celebration that celebrates the Mongol people's illustrious history, rich culture, and customs, which we have held on since ancient times.
The Mongolians, who have a rich history of military warfare, used to organize wrestling matches, horse races, and archery among their warriors before and after major battles. These events later became known as "Naadam" among the people.
The festival is not only a competition in traditional games, but also a day to be proud of our history, to pass on the heritage of nomadic civilization to the youth, to create a national identity, and assert our independence.
The history of Naadam – Mongolian's intangible cultural heritage
The origin of the Naadam festival is truly ancient. In ancient times, the Mongolian kings and military generals used to train the warriors and warriors' main war tool horses while competing and feasting during the three manly traditional sports.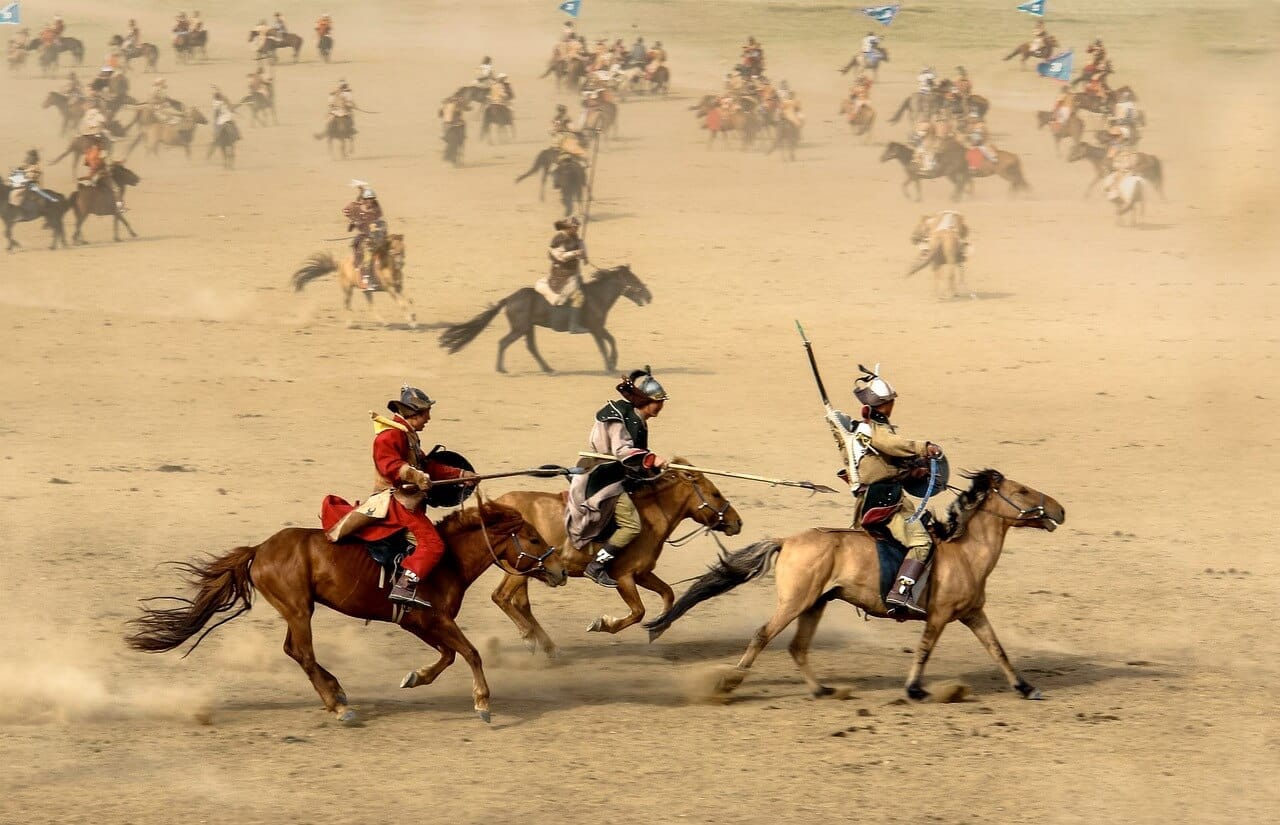 It has been celebrated as a national holiday since the Mongolian People's Revolution in 1921.
How is Naadam Festival celebrated?
Naadam festival is celebrated by holding traditional sports competitions such as wrestling, horse racing, and archery alongside a feast for the whole family.
The Naadam in Ulaanbaatar allows its viewers to witness the colorful celebration, parades, cultural performances, nighttime shows, and traditional sports while countryside festivals allow them to participate and mingle with the locals.
Mongolians also follow special rituals and practices during the festival, such as wearing unique costumes and using distinctive tools.
Festival participants revere the sportsmen, sportswomen, and children who compete, and winners have rewarded titles for their achievements. Some of these include gifts like a house, money, or a new car.
Ritual hymns and poems are written in honor of the competitors in the competitions. Everyone is welcome to participate in Naadam, which promotes community involvement and togetherness. The Naadam games are intimately connected with Mongolian life and living conditions.
What are the three events of the Naadam Festival?
The Naadam locally termed as the "Eriin Gurvan Naadam," is a three-part event consisting of horse racing, wrestling, and archery.
A traditional ankle-bone shooting game was added later on, so there are now four games played during the Naadam festival. Women are allowed to participate in a horse races, archery contests, and ankle-bone shooting matches but unfortunately not in the wrestling competition.
What does the Naadam Festival of Mongolia symbolize?
Naadam is significant to Mongolians because it celebrates Mongolian culture and heritage, as well as reminds them of the pride they feel for their nomadic lifestyle.
Where is Naadam celebrated?
All of Mongolia's 21 provinces and 330 towns have their own local Naadam festival celebrations. Some of the units celebrate on different dates due to special occasions, anniversaries, or conditions such as animal migration patterns.
In addition, the smaller Naadam is held on various dates than the major Naadam in Ulaanbaatar, allowing their local wrestlers, archers, and racehorses to participate in the main events and party.
What can you see in the Naadam?
From the opening ceremony to the three manly sports, the Naadam festival held many interesting other events with nomadic culture elements you can enjoy. Here are some things you shouldn't miss.
Opening Ceremony of the Naadam Festival
The opening ceremony of the Naadam festivals is the biggest event you can look forward to.
After "Nine White Banners" are carried by an honored guard from the Government Palace to the middle of the Naadam Stadium, the President of Mongolia will give a speech at 11 A.M to open Naadam Festival; a very colorful event where people revive their Nomadic spirit, history, and heritage.
The opening ceremony is rich with Mongolian culture including art performances, songs, and dance, a colorful parade complete with traditional costumes as well as speeches commemorating miracles performed by Mongol military forces throughout history.
Deeltei Mongol Parade
On this day, the Mongolian Traditional Costume Festival- Deeltei Mongol Parade marches about Sukhbaatar Square, like an army of peaceful Mongols who are invading the city and persuading its people to do traditional clothing.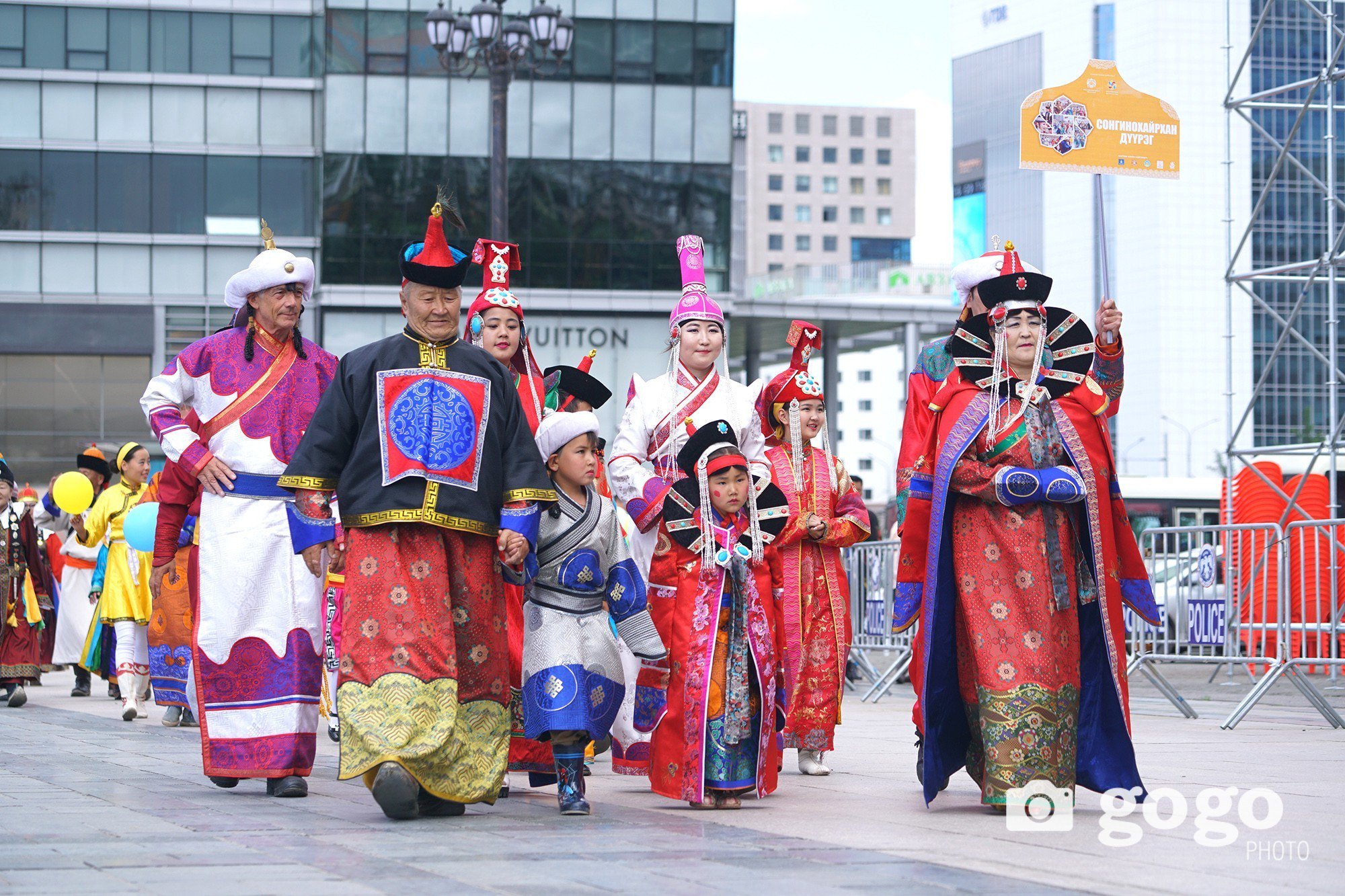 During the national festival, people wear their most colorful and attractive traditional costumes. The styles vary greatly, much like how actors dress up for the Oscars' red carpet.
Depending on Mongolia's ethnic groups and geographical locations, the Mongolian traditional dress "Deel" may be worn in a variety of styles.
Mongolian Wrestling
After the elaborate introduction ceremony in the national stadium, three manly games of national Naadam will begin with a wrestling tournament.
Mongolian Wrestling contests take place at the national stadium; competitions begin with 512 or 1024 wrestlers meeting in a single-elimination tournament that lasts nine or ten rounds.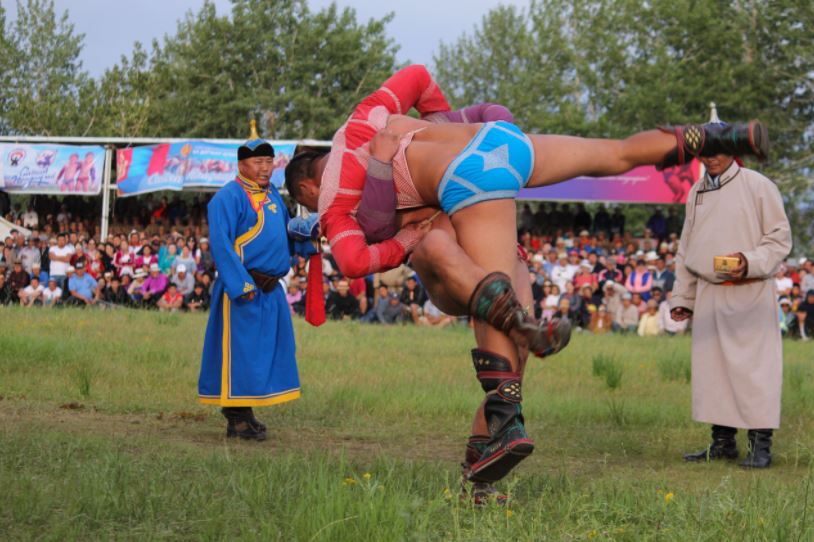 This main sport is an outstanding combination of traditional sports techniques and cultural elements, such as eagle dance, long song, and so on. There are several distinct features of Mongolian wrestling, including no weight or field limitations, longer time limits, and numerous deceptions.
Before and after the fight, Mongolian wrestlers perform a "special dance," which resembles magnificent birds like eagles, hawks, and vultures in terms of elegance/strength as well as a warm-up for the games.
There are four main parts in the Mongolian Wrestlers costumes including Four-sided hat, shoulder vest & snug shorts (Zodog & Shuudag), Cloak and traditional boots for using men only.
Mongolian horse racing
The herders' favorite sport of three manly games is a horse race, and they bring their best horses from all around to compete. Mongols have a rich horse culture that is evident in their daily and national life.
It's said that Mongolians are a "Nation born on horseback," and every kid who lives in the country learns to ride as soon as they're three to five years old. Mongolian horse racing takes place outside the city on the steppe over distances from 15 to 30 kilometers.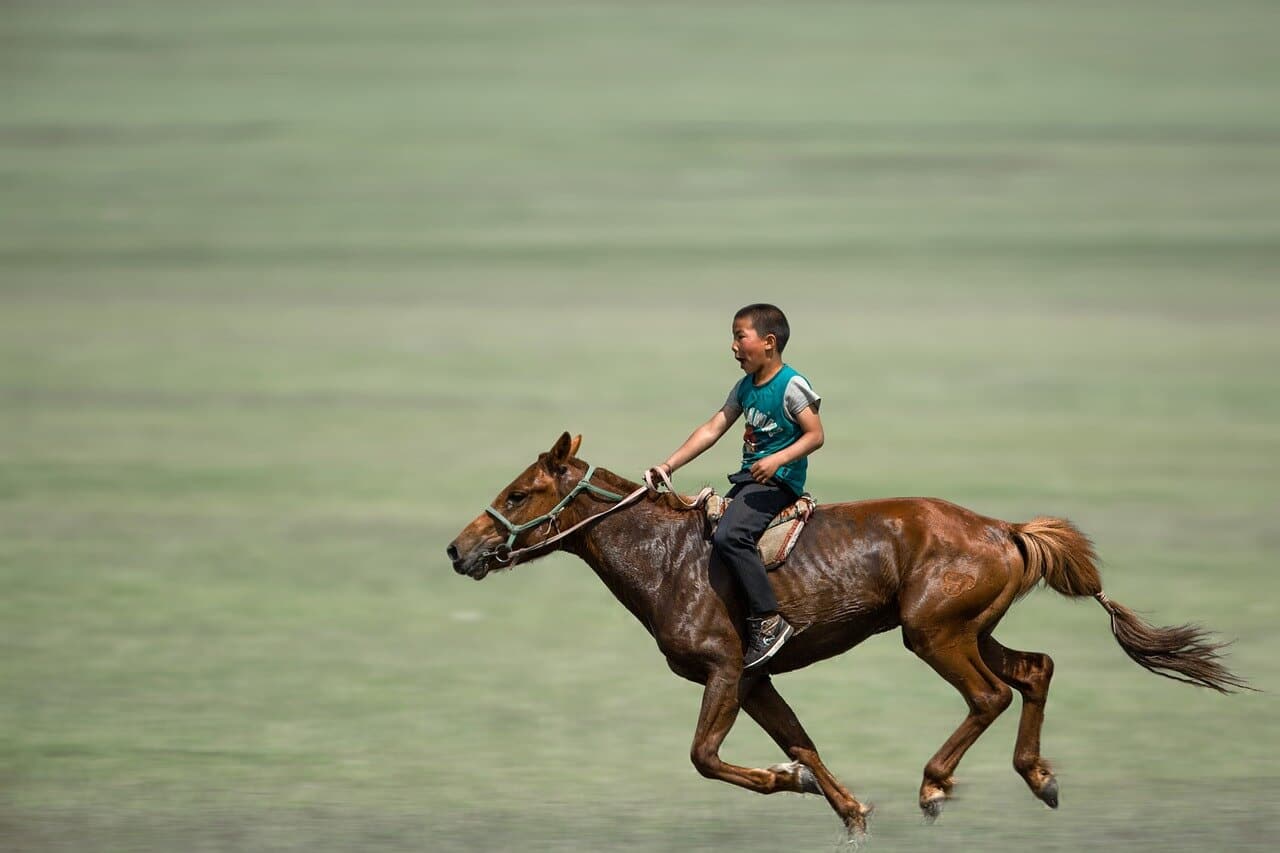 These horse races are a test of endurance for the horses and child jockeys, boys and girls, who are aged from 6 to 12 as Mongolian children of these ages are good riders. On race day, both horse riders and race horses are adorned in colorful silks and ribbons.
During the state Naadam festival, horse racing competitions are divided into categories by age and race for 10-26 kilometers. Jockeys not only ride their horse but also have to croon a special song called "Giingoo" to keep their spirits up throughout the duration of the horse racing.
Both horses and jockeys go through extensive preparation several months before the event. During that time, the horses are fed a special diet and treated with care. Horses and their riders who come in the first five places are rewarded and revered.
Mongolian archery
Because ancient people lived a traditional lifestyle, they hunted with bows and arrows. Later on, people started to use bows and arrows as weapons during battle. To this day, archery contests are held as a tradition dating back to the time of Genghis Khan when these contests were used to sharpen military skills.
Nowadays, contestants still use compound bows made from sinewy wood or bamboo that is strung with bull tendon. The Mongolia Naadam Festival is a time when all archers, regardless of gender or age, come together to compete in three traditional categories: Khalkh, Buriad and Uriankhai.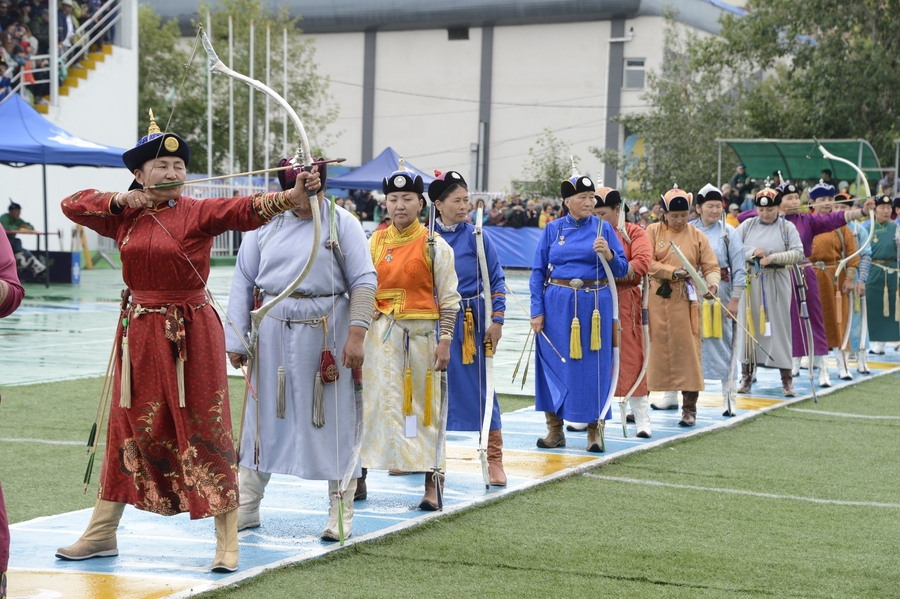 The bows and arrows used differ between the categories, as does the distance of the target. Archery is seen as a symbol of strength, vision, patience, sense and concentration.
The game is played by teams of ten individuals. Each player is given four arrows and must hit 33 "Sur," which is a small woven or wooden cylinder acting as the target. Mongolian Men shoot their arrows from 75 meters away, while women shoot theirs only 65 meters away.
Several men stand on either side of the target, singing a folksong to boost the competitors and then using hand signals in accordance with ancient practice.
Mongolian anklebone shooting
Another popular Naadam game is the playing games with shagai, which are sheep anklebones that people use as game pieces and tokens of divination or friendship. In bigger Naadam festivals, there might be a separate place where tournament games take place.
These particular three sports are played by flicking a small, rectangular soum at a stack of anklebones that is 9-Tokhoi (4.72 m) away. The use of sheep and other livestock bones for recreation has been commonplace among nomad children, and this game is just one example.
Mongolian Traditional food
If you're ever in Central Stadium for the Naadam festival between July 10-12, make sure to try Khuushuur–crispy deep-fried flat dumplings.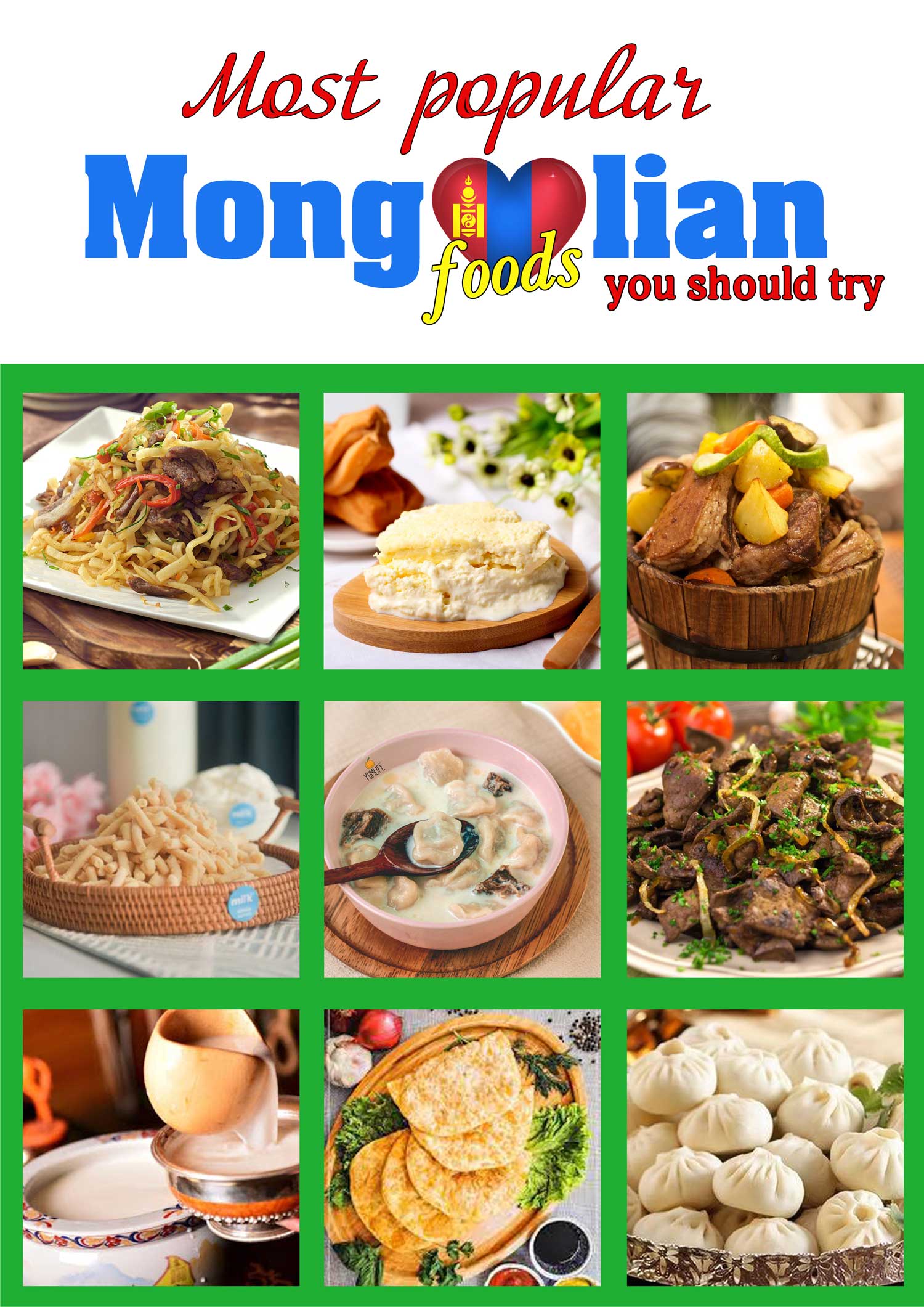 Also, don't forget airag! It's a fermented mare's milk that Mongols drink on special occasions…and also as punishment for losing certain games like khuruu (rock-stone-scissors) or dembee (finger guessing/singing game).
If you're looking to branch out and try something new, Mongolian cuisine offers many unique dishes for you to enjoy.
Naadam festival 2023
The Naadam festival is the most famous festival and biggest national holiday of Mongolia. That is why July is the PEAK SEASON of tourists. If you want to visit during peak season, make sure to book your accommodation at least 6 months in advance.
Prices for hotels and guesthouses will be double the desk rate price, so it's essential to plan ahead. For a stress-free trip, consider using the services of a tour companies or local agents.
Naadam ticket
The national stadium is composed of 18 sections and four of them are designated for tourists. Nowadays, it is difficult to impossible to book a NAADAM TICKET online.
The ticket price for the tourist section with roof access is 25 US dollars; however, you need to buy tickets for both the opening and closing ceremonies. They will go on sale a week before the event and are not easy to purchase individually – even for Mongolians.
As a result, tour operators are the greatest option for booking and arranging both lodging, tickets, and trips in Mongolia. Our team is an expert for arranging tours of Mongolia and here is the link that might help you to plan your trip to Mongolia during the next Naadam.
Suggested tour: Mongolia Naadam Festival – 2023 Tour-14 days
Why is the Naadam Festival celebrated?
The Naadam Festival is a one of a kind event that is both a sophisticated and eloquent expression of nomadic life, which is honored as a national independence celebration. It has an impressive blend of arts and sports.
How long is Naadam festival?
Naadam festival is celebrated for 3 days. But considering the provinces and little towns have different dates to celebrate than the capital city Ulaanbaatar, Naadam can take from 2 weeks to 3 weeks, in some years.
Related Content:
The Mongolian Horse race is a test of both horse and rider. The track is approximately 15 kilometers long and the horses must navigate a series of obstacles along the…
Mongolian Archery is a traditional Mongolian sport that has been passed down through the generations. It is said to be one of the oldest sports in the world, and is…
Mongolian wrestling is an ancient type of wrestling that has been part of Mongolian society for centuries. It is still a popular national sport and its wrestlers are held in…
Share to Public