Khorgo Terkhiin Tsagaan Nuur National Park is a stunningly beautiful park located in Mongolia's Arkhangai province. It is home to the extinct volcano Khorgo, which rises up in the midst of rolling hills and meadows, creating an unforgettable landscape.
The national park protects an incredible variety of wildlife, including red foxes, argali sheep, ibex, and other species of birds and mammals. It is also home to the world's largest intact caldera lake as well as a stunning gorge formed by lava flows.
What makes this place so special are the otherworldly landscapes created by the combination of mountains, a lake formed from a volcano eruption, and earth with moraine steppe. Volcanic activity has taken place here off-and-on for millions of years.
Khorgo Terkhiin Tsagaan Nuur Natural Park features two beautiful natural landmarks:
Lake Terkhiin Tsagaan Nuur, a stunning lake formed in an extinct volcano crater,
the majestic Khorgo Volcano.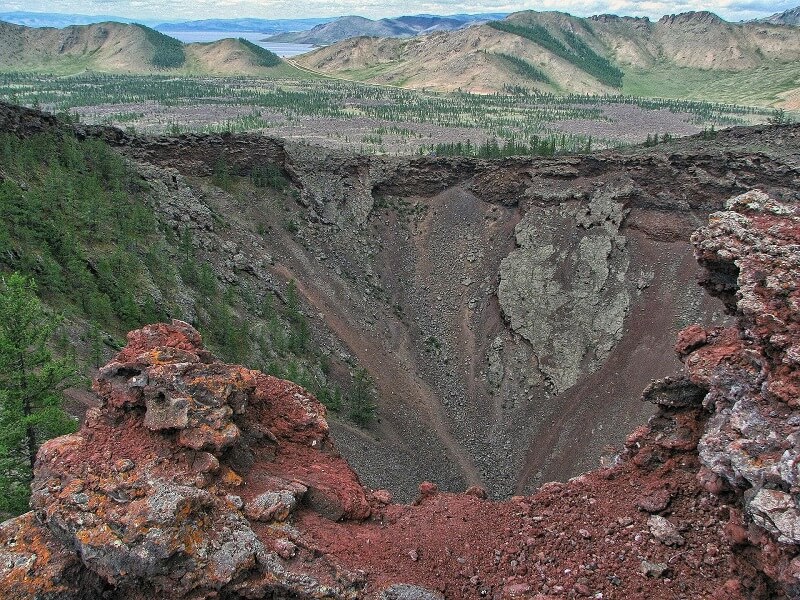 Where is it:
The National Park is situated in Arkhangai province, 180km from central town Tsetserleg. Khorgo-Terkhiin National Park rests 2100-2500m above sea level between main mountain range of Khangai Mountain range and Tarvagatai Mountain range.
Khorgo-Terkhiin Tsagaan Nuur National Park was established in 1994 and is composed of Khorgo extinct volcano, which has been under state protection since 1965. Terkhiin Tsagaan Lake and its accompanying area make up the rest of the national park's 76,893 hectares.
Terkh White Lake is a freshwater lake situated 2060m above sea level. It covers 61sq km and is 16km long and 6km wide. The Suman river starts from Terkh White Lake and joins the Chuluut River.
The Khorgo extinct volcano lies in the east of Terkh White Lake, 2178m above sea level, with strange rock formations around it.
Khorgo extinct volcano
Khorgo extinct volcano, the symbol of Khorgo-Terkhiin Tsagaan National Park, lies in a huge crater and is covered with deep coloured rocks. Although there is no lake, clouds of steam regularly jet out its crevices and form ice molds in winter, which from a distance look like large flocks of sheep scattered on the mountain.
Near the crater, there are dozens of small caverns with stalactites hanging from their ceiling and walls. At some point in the past volcanic lava flooded nearby valleys which are now covered with small woods and offer a great variety of flowers and berries.
In these woods you can find deer, wild goats ,and other animals as well as several types of birds .
On this easy 16-kilometre (9,94 miles) hike to the summit of an extinct volcano covered in basalt, you'll see evidence of its active 8000 years ago. Its crater measures 200 metres (656,17 feet) across and is 70 – 80 metres deep (229,66 – 262,47), with small clumps of trees around it.
The area has been protected since 1965. Nearby Khorgo Volcano is an amazing expanse of solidified lava bubbles called "the basalt yurts" by locals.
Terkhiin Tsagaan Lake
A huge lava flow once obstructed the Terkh River, which then resulted in the formation of Lake Terkhiin Tsagaan. This lake is 16 kilometers long, 20 meters deep, and covers an area of 61 square kilometers.
Situated at an altitude of 2.060 meters, the River Suman flows down from this lake in forceful torrents and created a canyon with several small lakes along its path.
One of the most beautiful lakes in Arkhangai, it's no wonder that many tourists are drawn to this picturesque location. Not only is the scenery stunning, but you can also find an array of wildlife including pikes, chitals, marsh deer and wild boars.
The lake is frozen for a large part of the year, which makes it even more magical. The waters of the river are so turbulent that they don't freeze in the severest winter frosts.
In the middle of the lake, there is volcanic Island covered with nests made of Sam Khan grass. Here you can hear birds all day long, as well as red deer, Siberian deer, and wild bears around the lake in summer.
Things you can do there:
Visitors to Khorgo Terkhiin Tsagaan Nuur National Park can explore the area on foot or horseback. There are also opportunities for hiking, camping, and fishing in the area. Visitors can also enjoy a traditional nomadic lifestyle by visiting nearby families and experiencing local culture.
After you've arrived at the lake, take a peaceful stroll along its edge. If you have extra time, paddle around the lake in one of the boats for rent to fish or take photographs of the breathtaking scenery. This is also a great way to spot wild animals, as well as hundreds of birds who call this park home.
A few minutes' drive east will take you to the volcano, where a 15 minute hike upwards will lead you to its crater. Be careful as you walk – locals have fixed the path and built small concrete steps, but there are still some slippery loose rocks on sections of the trail.
From atop the volcano, you can survey the surrounding area covered in magmatic rocks. The hot lava that once streamed through 100kms over this valley now lies at your feet, while in the western horizon stretches Terkh White Lake.
Legend of the Lake
Once upon a time, an old man and woman used water from a well in the middle of a plain. They covered the well everyday, but one day they forgot.
That night, when the well started to overflow and flood the area around it, Great Mongol hero of stopped it by cutting off the top of Mount Uranmandal and throwing it into the mouth of Well. A local took advantage of the situation and said "look at that big lake", later naming it White Lake.
The best time to visit there:
The best months to visit are typically July and August as the weather is more temperate than other times of the year. The air from the nearby lake and mountains creates a cooler climate that makes for a pleasant visit. If you're planning on seeing Khorgo Terkhiin Tsagaan Nuur national park, it might be worth your while to also see "Ugii lake" while you're in the area.
Hello. My name is Anujin. I was born and raised in Ulaanbaatar, the capital city of Mongolia. I am senior writer at CorrectMongolia, where I share the culture , tradition of my country.
If you have questions about Mongolia, don't hesitate to ask. I'll be happy to help in any way that I can!
Gobi Desert Tour In Beautiful Mongolia Explore Gobi Desert Attractions Gobi Desert Tour 7 days 8 night Tour Schedule: September 11th~September 18th In case of any cancellation, we will notify…
Among the mountain steppes and grassy lands of central Mongolia rests Ugii, a beautiful freshwater lake. It is one of the biggest lakes in Mongolia with 27 km squared area…
Share to Public: