Terelj National Park 1 Day Tour
Explore Terelj park & Genghis Khan Statue Attractions
Terelj National Park Day Trip
Tour Information
Duration: Day trip
Availability: all year round
Trip from: Ulaanbaatar
If you're looking for an escape from the hustle and bustle of the city, look no further than Gorkhi Terelj National Park. Within a short drive from Ulaanbaatar, you will find this gorgeous park that boasts rolling hills, fascinating rock formations, and towering mountains. And be sure to make your way to the huge Genghis Khan statue! A day tour of the park is the perfect way to spend some time outdoors and explore Mongolia culture.
Experience During The Tour
Be amazed at the imposing 130-foot tall Genghis Khan Statue Complex.
Experience horse riding sessions and play some cultural games.
Visit local families and see the Terelj Park's famous Turtle Rock
Hike to the Ariyabal meditation temple, surrounded by scenic valleys
Take pleasure in seeing and hearing the open field and lovely mountain scenery.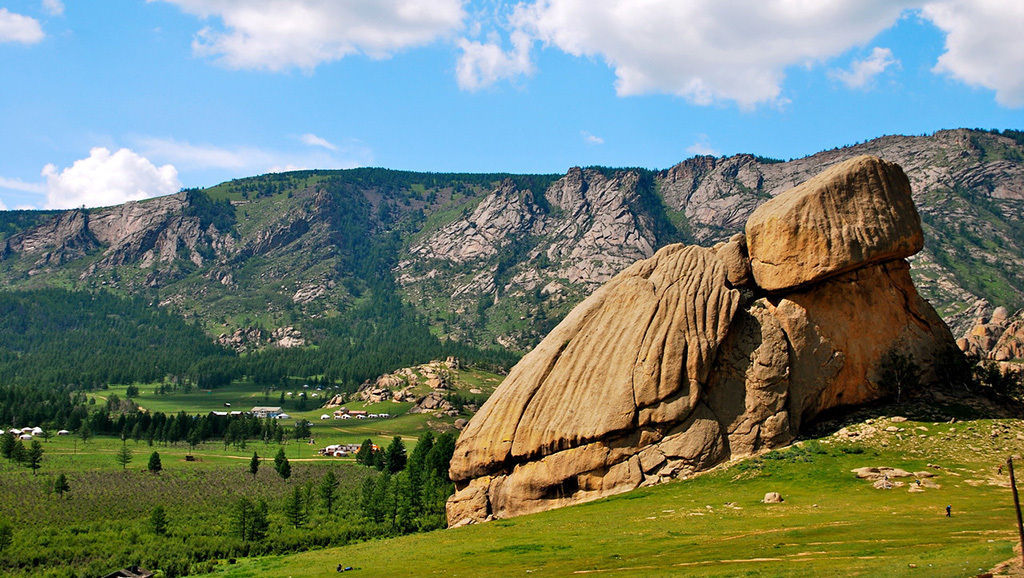 Gorkhi Terelj National Park Tour
Discover new nomadic life
Tour Course:
We'll pick you up at your hotel promptly at 8:30am and take you to see Genghis Khan Statue Complex. It's the biggest (40m high) equestrian statue in the world, and it's an impressive sight. You'll be able to explore the complex thoroughly and get a good panoramic view from atop the statue.
The trip continues to Terelj and makes a brief stop at Ovoo – rock pile, which was used in religious worship. You're able to have lunch at tourist Ger camp, which is situated in one of the most beautiful locations in the National park.
Next on our itinerary is a visit to the Turtle Rock formation – a interesting rock sculpture in the shape of a turtle and the symbol of the National Park. We will then hike to Ariyabal meditation temple – which is surrounded by beautiful pine covered mountains with towering massive rock formations. This temple sits atop one of these remarkable mountains.
Come join the nomadic family and experience a traditional way of life. You'll also get to try some delicious dairy products, and there's even an opportunity to go horseback riding!
At the end of the day, go back to the city to your hotel.
Tour Price:
| | |
| --- | --- |
| How many People | Price USD $ |
| 2 Person | 130$ |
| 3 Person | 110$ |
| 4 Person | 95$ |
| 5 Person | 85$ |
Terelj National Park Tour
Meet New Adventure in Magnificent National Park of Mongolia
Itinerary
Total Travel time: 5 hours
Schedule:
08:30 Start Tour from Ulaanbaatar
10:00 Arrive at Genghis Khan Statue

13:00 Lunch

14:00 Arrive at Terelj National Park
18:00 Go back to Ulaanbaatar
Things To Consider
A private tour guide and a chauffeur-driven automobile will only cater to your needs. There will be no more other tourists in your party.
This trip package can be completely tailored to your itinerary.
The tour can be conducted with a minimum of 2 people.
It's best to wear warm, thin layers of clothing such as a waterproof jacket, a hat and headscarf to shield you from the sun and winds. Especially during horse ride
Make sure you have all of your camera equipment with you before leaving.
June to September is the optimum time to visit for Mongolia trip, with the peak period for the Naadam Festival in July. July and August are also the wettest months of the year, but our weather ensures that you will have many sunny days throughout this period.
Suggested Tour:
Terelj National Park 1 Day Tour Explore Terelj park & Genghis Khan Statue Attractions Terelj National Park Day Trip Tour Information Duration: Day trip Availability: all year round Trip from:…
Related content:
Mongolia is a land of vast open spaces and dramatic landscapes. From the high mountains of the Altai to the endless steppe, the country is home to some truly unique…