Gorkhi-Terelj National Park, also known as Terelj National Park, is one of the most beautiful worth visiting places in Mongolia that is best known for its rolling hills, which provide stunning views, and its many rivers and lakes, which make for great fishing spots.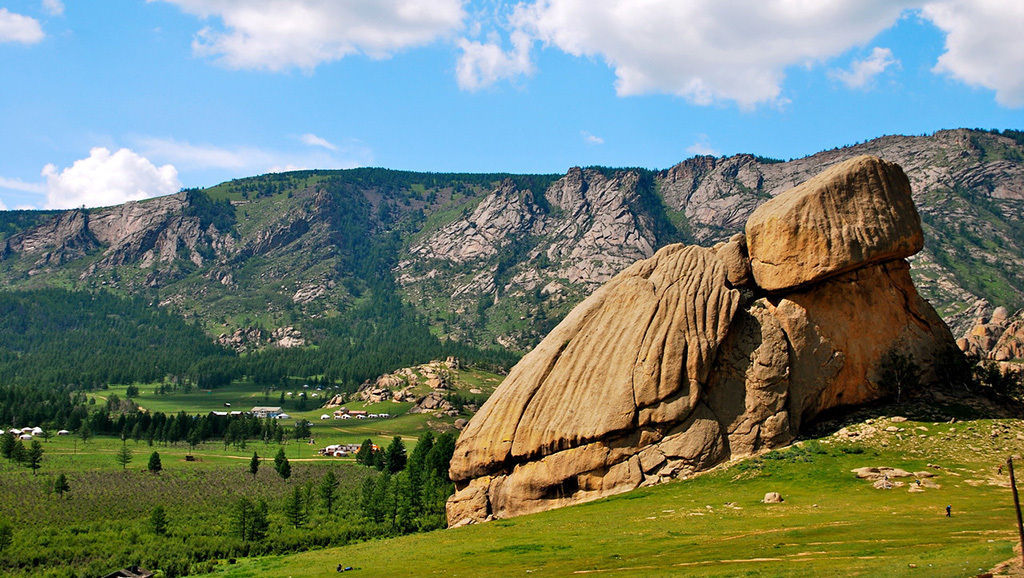 Visitors to the park can enjoy hiking, camping, fishing, horse riding and visiting nomad family and stay overnight in traditional Ger dwelling within short period and visit many tourist attractions that the park can offer.
If you're looking for a place to enjoy the great outdoors and learn about Mongolian history, whether in winter or summer, Terelj National Park is the perfect destination.
Gorkhi-Terelj National Park location
The Terelj National Park is located east of Ulaanbaatar, at a distance of 50-76 kilometers. It is a beautiful natural area with rocky mountain formations that are unique in the world and a beautiful river.
The park encompasses the southern branch of the Baga Khenti mountain range, as well as the Ar Ovor stream and basin of the Zaan-Terelj river, as well as adjacent terrain around headwater sources for the Tuul River. The park sits at an average altitude of 5,249 feet (1,600 m). The highest point of the park is Avkhan Mountain, at 8,740 feet (2,664 m).
Gorkhi-Terelj National Park fact
Fact#1
The Gorkhi Terelj National Park, located in Mongolia's Töv Province, is a beautiful place with a diverse ecosystem. There are over 1,000 different kinds of plants and wildflowers that bloom in the mountains. Larch trees, sycamore-alder trees, and cedar trees are also among the flora.
Fact#2
Various species of wild animals may be found there, including red deer, roe deer, wolves, muskrats rabbits, and partridges. The park is home to about 265 species of birds, including the endangered red-crowned crane as well as terns nightingales woodpeckers wild pigeons crows magpies.
Fact#3
Terelj was a mining area of smokystone, amethyst, and pure crystal till 1960. However, due to the high water pressure from below ground, mining was halted.
Terelj was a mining area of smokestone, amethyst, and pure crystal till 1960. However, due to the high water pressure from below ground, mining was halted.
Fact#4
The rock formations of the area are made of rocks that were created during the Mesozoic era. These rocks have been eroded over time by water, wind, and other natural forces into strange shapes. One example is a big rock that has the shape of a frog, known as "Turtle Rock".
There are several types of natural formations, including 'Turtle rock", "Camel rock", "Cave of three friends", "Lenin rock", and "Praying Lama Rock" (a.k.a Old Man Reading a Book) and so on. The north end of the region is home to a variety of rocky mountain peaks with distinct shapes.
Fact#5
In addition to its natural beauty, Terelj National Park is also home to some important historical sites and attractions. The park is the site of the Battle of Khalkhin Gol, which was a pivotal moment in Mongolian history.
You can also visit Ariyabal Meditation Temple. Located about 1 km from Turtle Rock, Ariyabal Meditation Temple was built in 1998-2004, because of its "Natural Energy".
Fact#6
There is a Terelj settlement in the national park that is a developed tourist area that provides visitors with a chance to shop and eat at the local restaurants.
The Terelj settlement is located in the valley of the Terelj River. There are many tourist camps and resorts in the area, where you may participate in a variety of fascinating activities.
Top 5 things you can do
Explore many of the fascinating rock formations and caves mentioned above. Two of the more famous rock croppings include Turtle Rock and Praying Lama Rock. From Turtle rock, you can drive to Ariyabal temple in about 5 minutes.
Hike across one of the hills, the green meadows, or mountains for more picturesque vistas. And if you like adventure activities, you can go rock climbing instead of hiking.
Terelj National Park is a popular destination for both amateur and expert horseback riders. Amateurs can ride in the tourist region for an hour to many hours, whereas adventure riders may go on horseback for several days through the pristine regions of the mountainous terrain. And if you can't ride a horse, don't worry. You can still go on camel riding tour or yak cart tour.
You can make your trip more exciting by rafting on the Terelj or Tuul Rivers. In winter you can go dog sledding on the frozen Terelj river.
You may also view ancient monuments and nomadic families in the area. Stay in one of the yurts, (traditional ger dwelling of Mongolia) and experience the nomadic lifestyle for yourself.
Gorkhi-Terelj National Park history
The Gorkhi-Terelj National Park is home to a rich history that stretches back centuries. The park was first established in the early 1990s as a protected zone to protect the natural resources and wildlife in the area.
Since its establishment, the park has become a popular tourist destination. Visitors come to enjoy the natural beauty of the park, as well as to participate in outdoor activities such as hiking and camping. The park is also home to a few small villages, which offer visitors a glimpse into traditional Mongolian life.
The history of the Gorkhi-Terelj National Park is fascinating and full of surprises. It is a unique place that offers visitors a chance to experience both nature and history at its finest. The Gorkhi-Terelj National Park is the ideal place for you if you want to get away from it all and appreciate nature's beauty.
Let us know in the omments below! or join our newsletter today
Related Content:
Ulaanbaatar is the capital and largest city of Mongolia. The city is located in the north central part of the country. Ulaanbaatar has a population of over 1.5 million people,…
Share to Public