Khuvsgul Lake is one of the most beautiful places in Mongolia with thick forests, rushing rivers, sparkling lakes and rugged mountains. In recent years, this spectacular landscape of water and mountains has become the destination of more and more travelers, from all around Mongolia and beyond.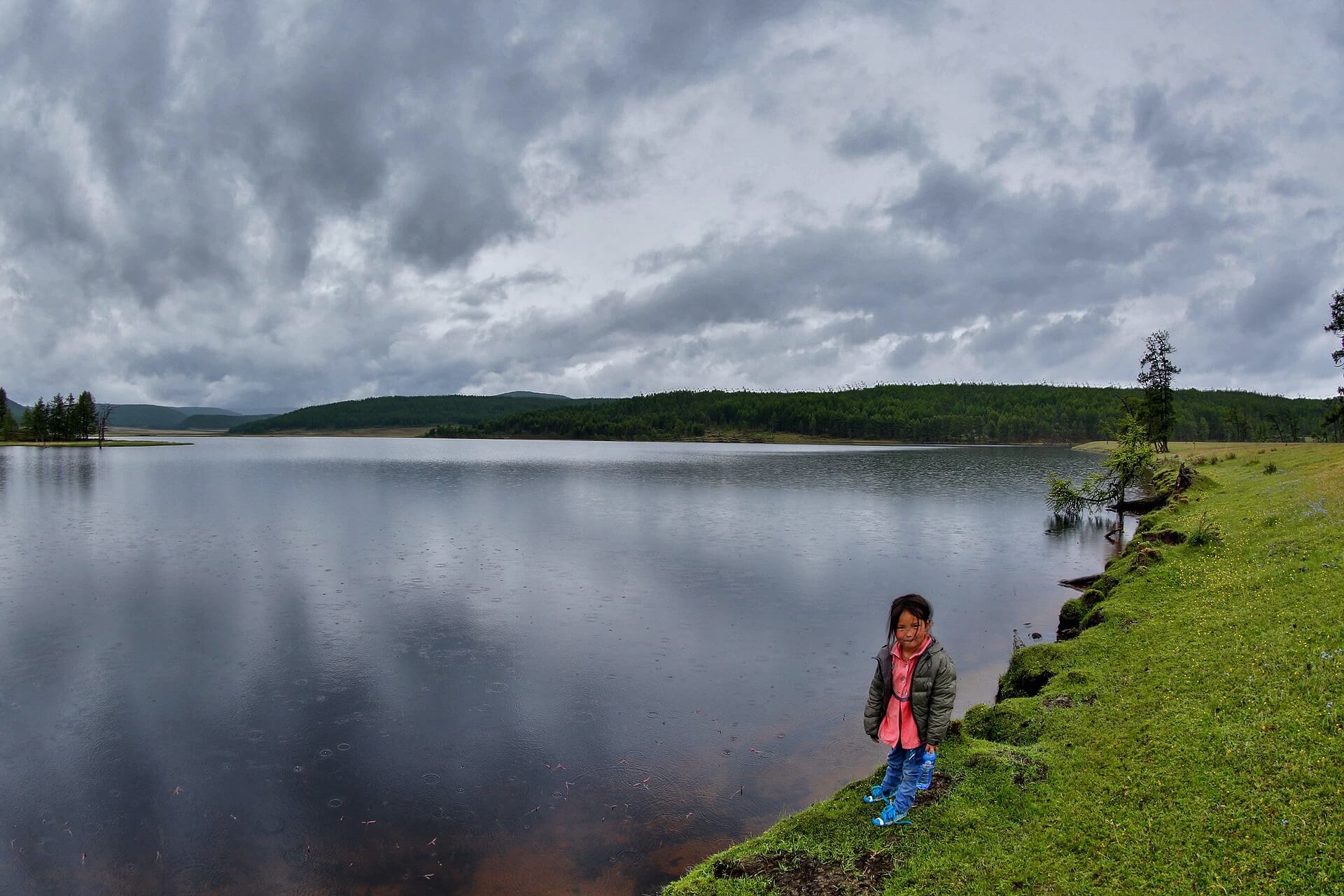 This stunning area was set aside as Lake Khuvsgul National Park (2500 hectares) in order to protect it for future generations to enjoy. So here are 7 interesting facts about Khuvsgul Lake that you may not know.
Khuvsgul Lake Location
Lake Khuvsgul is a freshwater lake in Khuvsgul province, northwest Mongolia near the Russian border at the foot of the eastern Sayan Mountains. It is 5,397 feet above sea level, 85 miles long and 860 feet deep.
To get there
Those who are leisure travelers and aren't in a hurry can reach the camp with 2-3 overnight stops, but those who want to get there quickly can do so within 14-15 hours. The lake is connected to Ulaanbaatar by a 1000 km paved road.
The simplest and quickest (if not the most expensive) option is to fly to Murun city, which is 102 kilometers from the lake. Then take a 2.5-hour drive to Khovsgol Lake.
There are also regular public buses plying between Ulaanbaatar and Murun every day
How is Khuvsgul Lake pronounced?
In English texts, the lake's name is also spelt Hovsgol, Khövsgöl, or Huvsgul. It is referred to as Hövsgöl nur in Mongolian and as Hövsgöl dalai in Mongolian (which means "Ocean Hovsgol") or revered as a Mother Ocean for locals.
Lake hovsgol National Park
Khovsgol National Park encompasses the beautiful lake and its 70.000 sq km area in order to preserve the land and those who live off of it. The park seeks to maintain a balance between nature and the nomadic herders that call this place home.
The national park encompasses 4 sum territories:
Alag-Edene,
Renchinlhumbe,
Hankh,Chandmani Undur sums
Hatgal village located in Khovsgol province.
Animals in the Lake Khuvsgul National Park
There are 59 species of mammals, 244 species of birds and 750 species of plants in Khuvsgul reservoir. About 60 species of plants are medicinal plants.
This area is home to many animals, such as sables, lynx, mink, elk, brown bear wild boar , roe deer red deer , skunk , leopard, fox, wolf ,reindeer argali and ibex. The lake is home to endangered endemic fish species – Khuvsgul grayling.
Birds that are labeled as extremely rare in the Red Book lives in the park including Gangar Swan, Yavlag Sar, Altai Hoilog so it is the perfect place to visit for birdwatchers and nature lovers.
About the Lake
Khuvsgul, much like Baikal lake, is a rift lake. While it isn't the largest at only 136 kilometers long, its maximum depth of 262 meters earns it a spot as one of the world's deepest lakes. In a land where most lakes are salty due to their desert surroundings, Khuvsgul is considered sacred.
The lake contains 70% of Mongolian freshwater sources and 1-2% of the world's total.
This is one of the world's clearest fresh water lakes, with a transparency of 24.5 meters and a color that resembles that of Caribbean Lakes and its water is drinkable without any treatment.
The Khovsgol Lake is fed by over 90 rivers, with one flowing out from its southern tip- the Egiin Gol River. This river is a tributary of the Selenge River and flows into Lake Baikal in Siberia.
The lake formed about 7 million years ago. Geologists say the lake is connected the Lake Baikal underground. That is why Lake Baikal and Lake Khuvsgul are called Sister lakes.
By the end of November, water freezes completely to form a 1 m thick layer of ice.
Things to do at Khuvsgul Lake
There are several things to do in the vicinity of Khuvsgul Lake. Horseback riding is one of the most frequently performed activities. Hiking, fishing, and boat trips are also available in the region. Visitors may enjoy the scenic views.
The Lake Khuvsgul and its surroundings are undoubtedly the highlight of Mongolian nature, with a variety of activities and holidays available.
If you're looking for a leisurely holiday, there are plenty of options available to you. You can stay in one of the ger camps along the shoreline, hire a boat to take you to one of the four picturesque islands, go kayaking, or visit some nomads to explore Mongolian way of life.
You can also meet the representative of the reindeer herders and enjoy some leisurely horseback riding. And if you're feeling active, you can hike along the lake's shore or through wildflower-carpeted meadows and forest clearings.
Adventure travelers can explore a multitude of options, such as multiday horseback riding, scaling one of the high mountain summits, hiking among the Taiga Forest, scuba diving, fishing, or winter activities on frozen surfaces.
Sukhbaatar Ship
You'll come across the Sukhbaatar ship at the Hatgal boat pier, which is a huge ancient passenger ship. This 250 person capacity vessel is the latest variation of the ferry lines and is now used by tourists.
Horidol Saridag Mountain
In the west, the lake stretches 30 km to meet Horidol Saridag Mountain Range—a renowned destination for thrillseekers and nature-lovers alike. Just a few days' journey will take you to summit all the peaks in the area.
But beware: some of these roads are treacherous! So it's always best to travel with a guide. The entire mountain range is home to many endangered species like snow leopards, Argali wild sheep, and ibexes; thus, it has been declared a protected area.
Munkh Saridag
The Munkh Saridag Peak (3,492 m/457 feet) on Buran Khan Mountain in the north of the lake can be climbed by climbers from Hanh town.
Legend of Khuvsgul Lake
Once upon a time, when there was no Khuvsgul lake, there was a land with fertile soil, beautiful plants, and grazing land full of cattle. Local people used to carry furs, precious stones and treasures to the south to find goods and flour. In this land, the natives lived peacefully without suffering from a lack of resources. The locals affectionately named this valley the Paradise Valley.
A horrible person with evil intentions arrived in Paradise Valley long ago. The traveler was envious and began spreading rumors to sow discord among the people, which resulted in him stirring up trouble among the poor families and relatives.
Because of this, dissension arose among the locals, quarrels broke out, murders occurred, and thievery began. The eternally patient sky could no longer endure it for a long time; it became enraged and thunderbolts descended upon mountains and rocks that transformed the earth.
The valley of heaven split open suddenly, boiling water burst forth from the ground, and the entire valley was inundated, forcing animals and people to live in misery. Many of those who only just survived Paradise Valley to the hills were at risk of starvation.
People knelt, prayed, and made offerings to the eternal sky, requesting it to rescue people from poverty, desolation, and pain. The Eternal Heaven intended to free people from torment and released a huge stone from the sky that sank into the hole in the center of the water. The heated water immediately cooled down and formed the Khuvsgul lake as a result of this.
Mandal Mountain is a large rock in the middle of the lake that was brought from the sky by Mandal. It got its name because it's located in the middle of the lake, and it was later called "Son of Sea" and "Wooden Navel."
Tsaatan: people of Khuvsgul Lake
In the amazing beautiful taigas of the Khuvsgul basin live the Tsaatang people, who call themselves Uighurs. The Tuvans are from the Mongolian Yellow Pass and Shishged River. This Turkic people who are related to the Tuvans are among the most unusual and mystical beings in Mongolia, living in stunning alpine valleys.
The Tsaatans are a national minority with their own language, customs, religion, and a unique way of life. They also speak the Uyghur language. The Tsaatan people worship "the Eternal Blue Sky and Mother Earth," and they maintained a unique culture based on shamanistic practices and forest-based reindeer herding. Shamanism, rather than Buddhism, is the religion of choice in these regions.
The Tsaatangs' main source of income is through hunting and herding deer. They reside in extremely cold climates, often ranging from -31 to -50 degrees Celsius. Unfortunately, due to a lack of written history among the Tsaatangs, many traditional customs are being lost. In addition, the number of reindeer–which play a vital role in their culture–is steadily declining. These animals are also increasingly susceptibile to diseases; as they age, their bodies becomes less able to recover.
Frequently Asked Questions
How deep is the Khuvsgul lake?
The Khuvsgul lake is 1362.5 feet deep, making it the deepest and largest freshwater lake in Mongolia as well as Central Asia.
What kind of fish live in Khuvsgul lake?
There are 16 species of fish that live in Khuvsgul lake including the lenok trout, Kharaa, sturgeon, pike, perch, burbot, and others.
Where is Khuvsgul lake?
Khuvsgul lake is in Khuvsgul province in northern Mongolia.
How do I get to Khuvsgul lake?
The easiest way to get to Khuvsgul lake is to fly into Khuvsgul airport, which has daily flights from the capital city of Ulaanbaatar. From there, it is a 2-3 hour drive to the lake.
What is Mongolia's largest lake?
Khuvsgul lake is Mongolia's largest lake, as well as the largest freshwater lake in Central Asia.
Hello. My name is Anujin. I was born and raised in Ulaanbaatar, the capital city of Mongolia. I am senior writer at CorrectMongolia, where I share the culture , tradition of my country.
If you have questions about Mongolia, don't hesitate to ask. I'll be happy to help in any way that I can!
Share to Public